Four generations (and possibly five) of Illinois natives are entombed here. The mausoleum was first erected for matriarch Barbara Cure Espert who died in 1907, many years before her husband. Originally buried at Elmwood Cemetery, she was moved to this mausoleum a year after her death. It would be another 24 years before her husband Michael Espert would join her there.
The couple had only one child, a daughter (Mary Louise), and she and her husband are also entombed here. Mary Louise also only had one child, daughter Marion who is also entombed here with her husband. This third generation had more children together, and only one of their daughters has joined them so far. There is another daughter — I believe this fourth generation daughter's daughter who died young, though I can't confirm this — entombed as well, and the more recent deaths appear to have been cremations so there is room for many more family members to join their ancestors over time.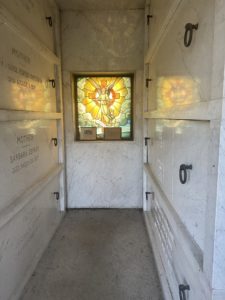 Michael Espert owned refrigeration warehouses and did very well for himself, though according to his obituary he did not work from the board room. He worked alongside his employees and often did repair work himself. He worked long hours every day and was generous with his employees, helping them finance homes and even bailing one out who'd violated the Prohibition Act.
While his wife was alive, the family had live-in servants. After her death and his daughter's marriage, Michael lived in a hotel for the rest of his life. He never remarried.
RIP Espert Family