10 June 1882 – 26 July 1903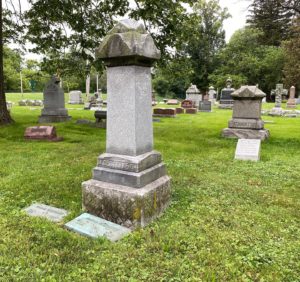 Ida was the oldest of three surviving children of Magnus and Minnie (Barneko) Oesterreich. On the 1900 census, she was living at home with her parents and younger siblings, sister Alma and brother William. She was working as a drygoods saleslady. In September of 1902, she married Albert W. Otto, and ten months later, their only child, Edna Karoline Wilhelmine was born. Eighteen days later, Ida was dead.
There is no way to know if Ida died of complications of childbirth or if the timing was simply tragic. What we do know is that little Edna was raised by her maternal grandparents. Her father remarried in 1909 and had four more children. He remarried again after his second wife died in 1932 and lived with this wife and her two children, but never with his own first-born Edna.
In 1910, Edna was living with her grandparents and Aunt Alma; in 1920 with just her aging grandparents. Edna's story takes a very tragic turn at that point, and by 1930, she had become an inmate at the Chicago State Hospital in Norwood Park, formerly konwn as Dunning Asylum.
As far as I can tell, Edna lived out her life there and at least she lived out the years we have census records for there. I couldn't find a death record for her, and there's no marker or inscription on the Oesterreich family lot where her mother is buried, so it's unclear. Her uncle died in 1967 and her aunt in 1971. If Edna outlived them which seems likely — and possibly at some point left the state hospital — who knows where she may have ended up.
Ida has two markers on this plot. The little stand alone one and hers is also the only inscription on the family headstone. I believe her grandparents are also buried here but with no inscription. Her brother and his wife's markers are in front of the family monument.
RIP Ida, Edna, and lost women everywhere