Joseph "Josie" Lyon
1882 – 4 December 1891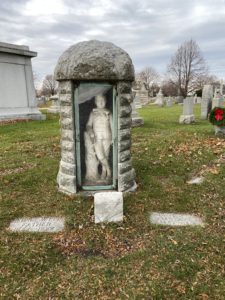 Josie was the youngest child of George and Catherine (Katie) Murphy Lyon. George had emigrated from Ireland at the age of fifteen, all by himself. He married the 10-years-younger Katie in 1877, 15 years after his arrival. On the 1880 census, his occupation was saloon keeper, so it seems he had established himself prior to marrying.
Later census records are more vague, with 1910 referring to him as a dealer, but George remained an employer. The family lived in good neighborhoods, had a live-in servant, sent the children to Catholic schools, and oldest George Jr. was educated to become a lawyer (and was very successful at that). Daughter Mary, a year older than Josie, married a doctor in 1907, and together they had several children.
Josie's mother was born in Connecticut to Irish immigrant parents. It's unclear when she came to Chicago, but it was there she and George married. She listed only three children born on her 1900 and 1910 census responses, so it seems only Josie didn't survive childhood.
The care and detail of this memorial make it clear not only that Josie was a much loved and mourned child but also a child of wealth. He is dressed in the height of late-Victorian proper young boy's fashion with a massive, floucing bow and broad lace collar. He stands in a relaxed way, leaning against a tree stump and holding a small bible.
The little beehive style tower built to shelter Josie from the elements is incongruously rustic, but the door is in excellent condition. In front of the statue and its shelter stands Josie's headstone and to each side of that are his parents' markers.
His mother died in 1912 in her mid-fifties. His father died in 1922 at 75. His brother and family are also buried at Calvary; his sister and her family are at Mount Carmel.
RIP Josie