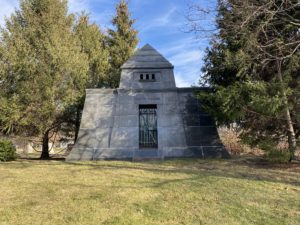 Designed by Louis P. Sullivan, this is possibly my favorite of the traditional mausoleums I saw at Graceland. It is massive and black and sits back between two trees, glowering out at passersby. It is extraordinarily goth, and I love it.
Martin Ryerson Sr was born in 1818 in New Jersey and came to Michigan to make his fortune in lumber as is the case for many of the wealthy interred at Graceland.
He had a relationship with a Native woman that doesn't seem to have included marriage but with whom he had a daughter, Mary, in 1843. In 1844, Martin married Louise Duvernay with whom he had another daughter who died in infancy. Louise died at only 30 in 1855.
Martin married a third time, later in 1855, to Mary Ann Campau (1832 – 1907). A year later, son Martin Jr was born. A year after that, Martin Sr filed paperwork to legitimize Mary who would've been about 14 years old. At some point around the same time (in 1857), the family moved to Chicago.
Mary (nee Ryerson) later married and had a daughter named Julia though husband Charles vanished immediately afterward and appears to have died, though I could find no record of that. Martin Jr also married, but he and wife Caroline Hutchinson (1859 – 1937) had no children of their own. Instead, Martin Jr was extremely involved in many, many things, including serving on the boards of the Field Museum, the Art Institute, and the University of Chicago. He studied law at Harvard, and practiced law for a time before working for his father's business from 1881 – 1892.
Martin Sr died in 1887, and his daughter Mary sadly died in 1888 at only 45 years old. Her daughter Julia eventually married a Swiss gentleman and lived abroad in Switzerland with him and their children.
Martin Sr's will was detailed and generous. He made liberal provisions for Mary and Martin but notable for me was how careful he was with his bequests for Mary and granddaughter Julia, setting them up so that the money was protected and freely theirs regardless of marital status. He also set up a trust to care for this mausoleum.
There are only five entombed here: Martin Sr and wife Mary Ann; Mary; Martin Jr and his wife Caroline.
RIP Ryersons