(reposted from @postsinthegraveyard, December 20, 2020)
I have gone past this beautiful family plot border monument countless times and only yesterday noticed the little gargoyle faces in the four corners of the cross. Of course, they aren't gargoyles — they are the traditional symbolic representations of the Four Evangelists, the authors of the Gospels, with Mark being the lion, John the eagle, Luke the bull, and Matthew the angel. The use of these symbols to represent Gospel authors dates back centuries and were used in religious art as far back as the 4th Century and are commonly found in illuminated manuscripts.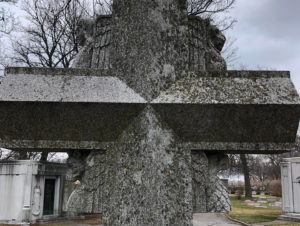 Finding these little medieval touches in this very clean, Art Deco-style monument was a delightful surprise.
The Reich family began in Illinois with parents Frederick and Pauline, a German couple who immigrated sometime before the birth of their eldest son in 1886. They had both already been buried in this family plot along with their two younger sons before their middle child, Otto Reich (or his surviving family), added the enclosing border memorial inscribed "The family of Otto Reich."
Per his daughter Vivian's obituary, Otto was a monument maker (aha!), Forest Park commissioner and civil servant. Her brother Vernon was a past mayor of the village of Forest Park, and both she and her sister were educators.
Across the two sections facing toward the family plot, is this epitaph:
If God hath made this world so fair where sin and death abound
How beautiful beyond compare will paradise be found
Please visit my Instagram for any questions or comments on this post!