12 May 1887 – 2 July 1897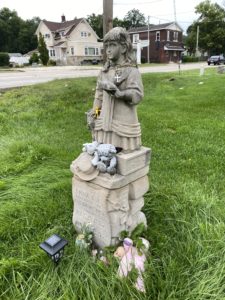 The grave of Emma Ochsner is in the old single graves section of the cemetery, according to her FindAGrave.com listing.
She died at the age of 10 while watching a funeral procession when "she took hold of a guy wire of an electric light line…"
Her father was also injured but did not die. It sounds as if he was of course trying to rescue her when he himself was hurt.
The family was living in Joliet at the time of her death, but later moved to Chicago where her parents are buried. She is the only one of her family at this cemetery, but the location of her headstone is right up by the road next to the sidewalk and there is no fence preventing people from just stepping over to say hello.
Her grave is clearly well visited. I imagine she is something of a local mascot.
RIP Emma