Eliza E. "Mother George" (Hamilton) George
20 Oct 1808 – 9 May 1865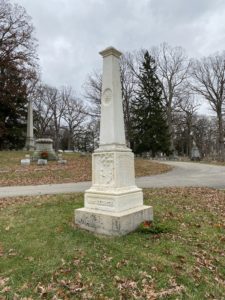 Eliza was born in Bridport, Vermont and was the second wife of Woodbridge Cottle George, a man almost 20 years her senior. The couple started their lives together in New York where their three children were born (Eliza, Sterling, and Maria). Eliza Sr was also stepmother to three older children (Mary, Ann, and Woodbridge).
By 1850, the family had moved near Benton Harbor, Michigan, where Woodbridge Sr farmed. It's likely the two oldest daughters had married before this, as only Woodbridge Jr – then 23 – was still living with his father, stepmother and three younger siblings.
It appears Sterling died later in 1850 and Woodbridge Sr died in 1854. Sometime after this, Eliza and her daughters moved to Fort Wayne where Eliza Jr met Sion Bass (brother of previously-featured John Bass). Before his death in 1862, Sion and Eliza Jr had three children, but two died in childhood prior to their father's death.
Eliza Sr apparently felt as moved to serve in the war as her son-in-law, and she became a nurse. According to the inscription on her monument, she served for three years "…on the march, battlefield, and in the hospitals…," earning the name "Mother George" from the Indiana soldiers she tended. Sadly, she died of typhoid fever just a month before Lee's surrender at Appomattox.
When she was brought back to Fort Wayne, she was interred with full military honors. The Indiana Sanitary Commission erected this beautiful monument in her memory. Eliza Jr and her only surviving child, son Beverly, later moved back to Benton Harbor. Eliza Jr never remarried.
RIP Mother George