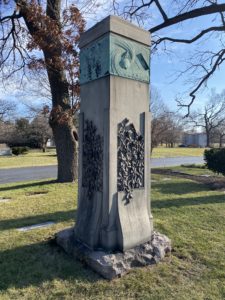 This interesting monument belongs to Frederick Seymour Winston (1856 – 1909) and his wife Mary Ada (Fountain) Winston (1858 – 1919). Frederick was a lawyer specializing in corporate law who made his name working with a few railroad companies as their General Solicitor. Though they were based in Chicago, both died in California.
They first went to Pasadena in December 1908 in hopes of improving Frederick's health. Before they left Chicago, Frederick wrote his will, leaving his entire estate to Ada which was apparently so remarkable, it was written up in the Inter Ocean (a now-defunct Chicago daily newspaper). Sadly, the California health cure did not work, and Frederick died in just three months later.
Ada also died in California almost exactly ten years later. The 1910 census placed her back in Chicago, so it's unclear if she had a separate home in California or if she was only visiting, but she definitely had the means to have homes wherever she wanted them: The Winston was worth $785K in 1909 which is the equivalent of about $24 million dollars in today's money.
After the write-up of her husband's death and her inheritance ten years earlier, Ada's death in 1919 barely warranted a mention. A tiny obituary ran in the Tribune two weeks after her death. Ada's probate record shows that she had been an excellent steward of the family estate. At the time of her death, the value of the estate had nearly doubled in size, though interestingly, the $1.5 million 1919 dollars is still worth just about $24 million in today's money. The couple had three children — a daughter and two sons, all adults at the time of their father's death — who likely were well taken care of by their mother's will.
I didn't get pictures of the flat stones around the family marker, but it appears from findagrave.com that both sons are buried with their parents. Their daughter Mervyn is also at Graceland, but she is located elsewhere, buried with her second husband.
RIP Winstons
Please visit my Instagram for any questions or comments on this post!