3 August 1823 – 3 September 1887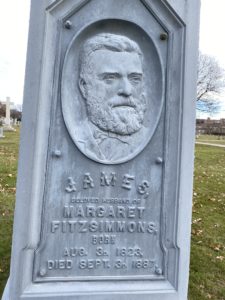 James was born in County Cavan, Ireland, and emigrated at the age of 20, shortly before the Great Famine.
He first went to Ontario, Canada, where he met and married Margaret MacArow (1824 – 1895) in 1845. A son named Hugh was born in Ontario, but around 1850, they moved to Oswego, New York where five more children — four daughters and a second son — were born. At some point in the late 1860s (after the birth of youngest child, daughter Susan) the family moved to Chicago.
On the family's first Chicago census, James listed himself as a retired grocer though he was not yet fifty years old. He was listed as a grocer on the 1860 and New York State census records that recorded occupations, and he'd apparently been a very successful one as he does not appear to have had to go back to work again.
The family seems to have had a good life in Chicago for many years, though sadly they lost Hugh (a Civil War veteran) in 1882.
In 1887, however, James was killed when "…at the Midday hour, while crossing Clark street on 29th street, [he] was run down by an engine on the Lake Shore R.R." (from a transcription on findagrave.com from The Chicago Citizen, 1883 – 1909, obituaries, marriage and social notices in Tom Cook's Index, Chicago's Irish Families, 1830 – 1900.)
James left behind an estate worth about $325K in today's money which seems to have taken care of his widow Margaret for the rest of her life.
This beautiful zinky only has inscriptions for James and Hugh. Margaret is also buried at Calvary, and it's possible she's interred with her husband and son and the headstone was simply not updated to reflect that.
Please visit my Instagram for any questions or comments on this post!