This stunning monument marks the Cummings family plot in the Fairlawn section at Graceland.
Patriarch Columbus R. Cummings (1834 – 1897) — another of the Gilded Age tycoons whose monuments dot the cemetery's landscape — came to Chicago from New York as a young man and went to work for Potter Palmer (whose spectacular monument at Graceland I featured on Christmas Day and will get back to eventually for its family's history). Palmer thought well of Columbus, which was likely an excellent connection to have, but eventually Columbus struck out on his own, moving to Pekin, Illinois, and opening a grocery there. He also met and married his wife Sarah (Menk) and started his family in that town. He was mayor for a short time, but when he lost his reelection bid, he moved his family to Chicago and got into railroads.
This led him into partnership with George Seney and other major Chicago, Illinois, and New York figures in a syndicate that created the Nickel Plate railroad. Columbus was a major driver behind this project, which they later sold to Vanderbilt for a massive profit.
Refocusing on Chicago and returning there, Columbus turned his attention toward gas companies, banks, and street railways where he had continued success. In his late 50s, his health took a turn, and it seems most likely he suffered from Congestive Heart Failure (or dropsy as it was then called). After dining out one evening, he returned home and collapsed. He died a few days later without regaining consciousness.
Another notable personage buried on the family plot is Columbus's granddaughter Edith Cummings Munson (1899 – 1984) who was born two years after her grandfather's death.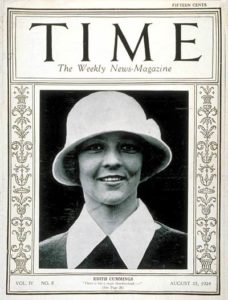 Edith was a champion golfer (1923) and the first woman to be featured on the cover of Time Magazine (1924). She lived the jet-setting jazz-age life of a socialite, traveling widely, big-game hunting, and competing at her chosen sport. She suffered a cancer scare at age 29 but while the tumors were benign, the operation left her unable to have children.
Two years later in 1931, she met her future husband, Curtis Munson (1892 – 1980). Curtis was a divorced father of three daughters and a then-retired naval officer who'd fought in WWI.
They married in 1933, and when WWII broke out, he reenlisted, and she also volunteered for the war effort, serving as director of staff welfare for the Red Cross in Europe, a very hands-on position that included a 13-day trek from London to Paris driving a one and a half ton truck with a mobile kitchen behind it. She survived several near-misses during her war, including a buzzbomb which missed the house she was staying in outside of London by five feet.
After the war, she and Curtis returned to his hometown of Washington, DC. Though they traveled widely and owned land in Canada, DC is where they called home.
Curtis passed away in 1980, and two years later, Edith sold the Canada land they had bought years before as a wilderness retreat, donating $500K of the proceeds to the National Trust. She, too, passed away two years after that at age 85 and, as her husband had been before her, she was taken to Chicago and laid to rest with her family.
Please visit my Instagram for any questions or comments on this post!
References