27 February 1849 – 5 January 1900
Ernst is another one of those Victorian rags-to-riches stories that are inescapable in American folklore. He was born in Germany to poor parents who immigrated to hte US when he was a toddler. They first lived in Wisconsin and then moved to Chicago. His father made baskets and when Ernst was old enough, he worked with his father in the trade.
Ernst was ambitious, though, and looked for work elsewhere, first working briefly as a bell boy at the very upscale Clifton House hotel and working as a newsy on the side, but soon he struck out on his own, opening a little jewelry store called The Fair. This store did well, and he gradually expanded it to offer more and different goods, transforming it piece by piece into a department store.
Around 1872, he married Augusta Handt and together they had six children, one who died in infancy. In 1882, Ernst's older sister Meta (who may have been his only surviving family member by then) died in Los Angeles after being widowed two years prior. She left one young adult and three minor children, and all came to live with Ernst and Augusta and the younger ones were brought up along with their own children while Bertha, the eldest, seems to have been introduced into society.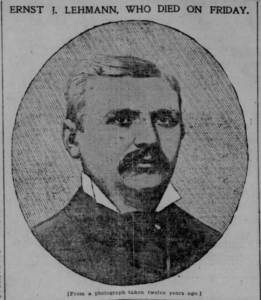 Sadly, Ernst devotion to his business led to a mental breakdown, or at least that was how it was framed in his obituary. An article from May 1890 explains that his "distraction" (which was used in a way in the article which makes me think it was a legal or medical term widely understood at the time) involved compulsive spending. For instance, while walking down the street, he would stop and buy a horse that caught his eye or stop at a jewelers and buy jewels which he would then carry loose in his pocket. I'm sure a part of the issue was a fear for the company and family finances, but it seems that all the medical people who examined him found him insane which I would guess in this case meant he was either unwilling or unable to control these impulses or unaware they were even something that concerned others. At this hearing, Augusta was made Ernst's legal guardian and his estate placed under her conservatorship. Shortly thereafter, he was sent to Bloomingdale Asylum for the Insane in White Plains, New York, where he spent the remainder of his life.
After 1890, Augusta (via a male relative of hers, OF COURSE), had charge of the business. Ten years later, Ernst — his health having slowly deteriorated over the years — died at just 50 years old.
When Ernst died, the family mausoleum was at Forest Home, and he was brought home to Chicago from New York and entombed there with several other relatives — including a son who'd died in infancy and his sister's three daughters, one of whom had died just nine months after her lavish wedding in 1887, another who'd died in 1892 at just 23 years old, and the third who had died the day before his own passing.
I found his will which was filed after his death but seems to have been written before he fell ill and probably before 1887 when his oldest niece married as it lists out his neices as recipients of bequests. This just added another layer of sadness to the whole thing: here was a man who had a reputation for kindness and generosity, who had known harsh poverty himself, and who had taken the time at a relatively young age to write out very specific, thoughtful bequests for all his loved ones, and so many of them passed so young in spite of their wealth and privilege. Whether he was aware that his nieces had all died is unknown, but if that final death was some kind of precipitating loss (if communications at the time would have even enabled him to have learned of it just a day later), I wouldn't be surprised.
At the time of his death, his estate was speculated in the press to be worth $10 million (about $331 million today). The company survived for many more years under the family's management — apparently just at the one location downtown — but was sold in 1925 to a syndicate which opened branches around Cook County. In 1957, the Montgomery Ward department store chain (which died out when I was a teen but which I remember well from my youth) bought the Fair stores and opened another one a few years later, still using the Fair brand, but by 1964, the stores were all rebranded as Montgomery Ward stores. The flagship store closed in 1984 and was demolished in 1985.
In 1920, two years after Augusta died, the family had all those who'd been entombed at Forest Home moved to their new, truly massive mausoleum at Graceland. When I first encountered the gorgeous, empty mausoleum at Forest Home, I couldn't imagine why they'd done that, but researching this, it all became clear.
I think this was likely Augusta's doing as she was interred at Graceland from the start, perhaps before she could finalize the plans to move her husband and other relatives herself. It is possible that one of her children pioneered the massive mausoleum idea and decided on moving their relatives, but I think it was Augusta.
She seems to have been a real force in her family's lives: keeping the company going while her children were still minors; caring for her children and nieces and nephew; dealing with the terrible early deaths of all three of the nieces whose care she had assumed after their mother's death and then her husband's incapacitation; and weathering several of her children's many divorces and marriages and the scandals that went along with those.
An example of what must have been a scandal as it is still slightly scandalous more than 100 years later: her youngest son Ernst married a woman in 1904 named Casse Affeld; they divorced within a couple of years and then her middle son Otto married her in 1907! Otto also married her again in 1912, so I think either that first marriage wasn't fully legal, or they'd also divorced and then thought better of it. By 1920, they were divorced (again).
Casse had a least two Lehmann children and from their ages, it's unclear who the father of her oldest was (yikes), but they do not appear to have been included in the family mausoleum plan. It seems that once divorced, that was that. Casse and her daughters moved to New York by 1920, and both the Lehmann brothers remarried, Ernst twice and Otto once more. They must've settled down at last as both of their "last" wives are interred with them in the family mausoleum. Less scandalous, though for the time period QUITE scandalous: Her youngest daughter married, divorced shortly after (or perhaps annulled the marriage), and then never married again which: good for her.
Augusta seems to have wanted all the family together, and there are about 25 family members spanning four generations currently entombed, Considering the size of this mausoleum, there is likely room for more.
RIP Lehmanns
Please visit my Instagram for any questions or comments on this post!
References