All three generations of Ludwig/Louis* Wolffs are interred at Graceland. Ludwig Sr is entombed in this sunken mausoleum on the far northern side of the cemetery while his son Louis Jr and grandson Louis III are buried together on a family lot near the southeastern corner of the cemetery, memorialized by this unique stone.
The Wolff family came to the US in May 1854 when Ludwig Sr was a young man of just eighteen. Their arrival was followed by a truly devastating series of losses. Ludwig Sr was the oldest of the eight siblings who immigrated with their parents, and shortly after they reached New York, their mother and three brothers died. The surviving family members made it to Chicago, and then lost their father in July of the same year. This left Ludwig Sr in charge of his surviving two younger brothers and two younger sisters.
Fortunately for the remaining members of the little family, eighteen years old was, in those days, old enough to have learned a trade, and young Ludwig Sr was a coppersmith. He worked at several different jobs including a 3-month stint on a farm, and though we have no insight into his inner life, I would guess he was driven to succeed after so much sacrifice, and to take care of his family. In spite of everything that had happened to him, within a year, Ludwig Sr teamed up with a trained plumber, and together they established their own business in 1855.
Ludwig Sr seems to have been both determined and lucky, for he and his partner's first job using Ludwig Sr's coppersmithing skills was to build a still for a local pharmacist. Ludwig Sr ended up working on his own to build a working model of an improved still which they then demonstrated at the United States Fair (held in Chicago in 1856). The design proved a great advertisement for them as well as earning them some kind of award at the fair, and their business really took off, expanding even beyond Chicago in the next few years.
He married in that same year to his first wife Elisabeth and together they had seven children over the next almost 20 years. In business, Ludwig Sr continued to thrive, eventually buying out his partner in 1868. Though he lost about $30K in the Great Chicago Fire from lost accounts (rather than from sustaining damage directly), a business decision he'd made prior to the fire to provide his premises with water to run his machinery in case of emergency turned out to be a boon to the citizens of Chicago when he made the water available to the public — putting out tanks on the sidewalk outside his business — until the city water services were restored.
The year after her youngest child, Louis Jr, was born, Elisabeth died. Ludwig Sr would remarry twice, with one child from each marriage surviving to adulthood. In all he had ten children. Ludwig Sr. outlived all three of his wives and four of his children. In 1910 shortly before his death, he was living in a large house with several servants, the family fortunes secure.
Ludwig Sr is entombed with all three of his wives, and at least three of his daughters. Several family members, including his first wife Elisabeth and two of their daughters, were originally buried at Wunders Cemetery but were moved to the family mausoleum at Graceland. In a tragic Chicago history note, his daughter Lucille (Garn), grandchildren Willie and John Garn, and his youngest daughter (and youngest child) Harriet who had accompanied her half-sister and nephews, were all killed in the Iroquois Theater Fire on 30 December 1903.
The three Garns were originally buried at Graceland — the funeral procession accoompanying the four coffins from Ludwig Sr's house numbering over 100 carriages long — but were moved to her husband's family's lot at Metzgar Cemetery in Sandusky, Ohio in the 1940s. Harriet is entombed with her parents, though the mausoleum does not appear to have been erected until two years after her death so she was also likely later moved though not a great distance.
At around the time of Ludwig Sr's death, the Wolff Manufacturing Company was at its height, employing around 3,500 people at two Chicago-area plants as well as sales and service staff in several other cities. After his death, Ludwig Sr's surviving sons ran the company which continued to do well for many years but was hit hard by the Great Depression, employment dropping to under 500 at a single site on Fullerton. Shortly after WWII, the company ceased operations entirely.
Louis Jr lived a less written-about life, working in the family business with his brothers, marrying Clementine Scott Griffin, a girl from Indiana, and having a child. Sadly, his only child, son Louis III, died at age 26 on New Year's Day, shortly before his 27th birthday. He left behind a widow, Beatrice, and his as-yet unborn daughter who was also named Clementine Scott after her paternal grandmother (Scott was grandmother Clementine's mother's maiden name),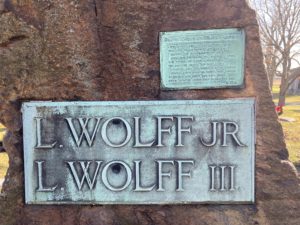 Clementine Sr lived another 11 years; Louis Jr another 12; and all three are buried together. Clementine Sr's parents are also buried on the Wolff lot along with their daughter, son-in-law, and grandson. Beatrice remarried and moved to New Jersey where both she and Clementine Jr lived out their lives. They do not appear to have been returned to Chicago for burial.
Louis Jr's marker includes a small plaque displaying a poem he wrote:
Thus Speaks This Stone

LOOK, YOU! SURVEY AND WONDER WHY
ONE SIDE OF ME POINTS TO THE SKY?
RISING! 'TIS THE IMMORTAL SOUL
POINTING TOWARDS ITS HEAVENLY GOAL.
THE OTHER, BLUNTED, ENDED, STILL
'TIS MORTAL BEING BY GOD'S WILL
CAREERS END SUDDENLY, EARTHLY WOES
VANISH WITH MORTAL PAINS, AND THOSE
OF HEART AND MIND ARE LAID AWAY
WHEN MORTAL BEING HAS SPENT ITS DAY.
L. W. Jr.
RIP Wolffs
Please visit my Instagram (Ludwig Sr | Louis Jr & III) for any questions or comments on this post!
---
*Louis is the usual Anglicized version of Ludwig adopted by immigrants, I've found.
References
The lion's share of the biographical info about Ludwig Sr was summarized from The History of Chicago from the Earliest Period to the Present Time, Volume III: The Iron Trade, Brass and Copper Founders, pp 500 – 501 (parts: 1, 2, 3) which was written during his lifetime.
The Wolff family relationships are well-cataloged on findagrave.com and several entries have short biographies (though I have sent edit suggestions linking two additional siblings not currently linked to the main tree: Christina who died in 1888 and was Louis Jr's full sister; and Fred who died in 1925 and was Louis Jr's half-brother, only child of Ludwig Sr's second marriage). If you are interested in learning more about the Wolff family, I suggest starting with Ludwig Sr and exploring from there.