28 October 1902 – 19 November 1922
My friend and I visited this new-to-me cemetery yesterday and found many gorgeous monuments. Calvary is spectacular, situated literally across the street from Lake Michigan. Among all the really stunning headstones, monuments, and MASSIVE mausoleums, though, my favorite was the memorial to 20-year-old Anna Spahn.
Anna had 4 older siblings from her mother's first marriage (their father died in his mid-30s of tuberculosis), the nearest in age 9 years her senior. Her siblings were all still at home when she was a young girl of 7 during the 1910 census, and it's easy to gather that she was doted upon.
Her father was 16 years older than her mother and was 53 when Anna was born. He owned a boarding stable, and even if we couldn't guess from the monument, it appears they were well-off.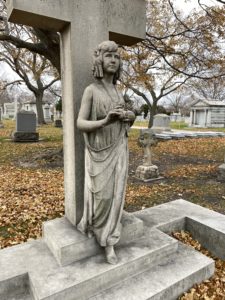 In August of 1922, just 2 months after she'd graduated from Loyola Academy (a co-educational college prep high school founded in 1909), Anna was hospitalized for a strep infection that tragically settled in her heart and eventually ended her life (thanks to @the_ted_13 for this rare cause-of-death information).
The family plot is dominated by this monument to Anna, and it seems safe to conclude this statue was carved in her likeness. It's life-sized and truly stunning in its detail.
Her father died two years later in 1924, but her mother lived another 23 years, passing away in 1947. In her obituary, Anna is refered to as the half-sister of Illinois State Representative Lawrence O'Brien who was later convicted of tax evasion, though census records after this peccadillo show he and his family doing just fine financially.
RIP Anna and family
Please visit my Instagram for any questions or comments on this post!