Ernest F. Ahnert
2 April 1883 – 11 March 1953
Mary A. Venzel Ahnert
18 May 1882 – 3 October 1964
This is my last mausoleum from Concordia and the newest, built in 1948, the same year Ernest retired from his life-long job of being a streetcar motorman in Chicago.
It's impossible to imagine that these days, not only working for the same employer for 43 years but also living through even just the infrastructure transformations that took place in that period, let alone the two World Wars.
Ernest and Mary married in 1918 when both were in their mid-30s. Mary had immigrated from Austria in 1900, and Ernest was born in Germany and immigrated in 1891 with his parents and little sister Hattie (his only sibling). It was the first marriage for both, and they had no children.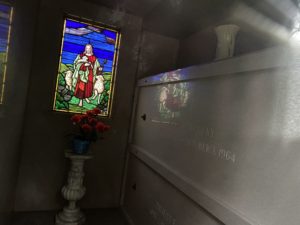 This lovely, mid-century modern mausoleum has just their two berths. It's decorated by a gorgeous stained-glass window and a small marble table topped by a bouquet of what appear to be artificial red roses.
Ernest's parents, sister, and brother-in-law are buried in Section 8. Hattie had five daughters, so I expect some descendant of theirs left the flowers while visiting (possibly the person who created the family findagrave.com records for Concordia who appears to be some level of great-niece).
I couldn't find out too much about Mary, but at the time of her death, she still had ties to the old country, with two nieces and a nephew in Germany. This implies she had immediate family on the opposite side of both World Wars. That is a fact that may well be true of a lot of the late 1800s immigrants buried at Concordia, but often in my research, it appears the entire immediate family of whomever is the focus of my investigation made their ways to the US so this actually hasn't come up before.
RIP Ahnerts
Please visit my Instagram for any questions or comments on this post!