Louise M. "Lizzie" Radoll
18 October 1889 – 24 July 1915
The Eastland, one of five chartered excursion boats meant to ferry employees, their families and friends from Chicago over to the Michigan City shore for the annual Western Electric Company picnic, keeled over into the Chicago River while still at dock, trapping hundreds inside its hull and leading to the deaths of 844 of the 2,500 passengers aboard at the time of the incident which became known as The Eastland Disaster.
---
Louise was the daughter of German immigrants and fell in the middle of the twelve her mother gave birth to (with nine surviving by 1910).
Her father August Sr. died in 1906, leaving mother Frieda to raise their younger ones alone, though several of the older children were still living with their mother in 1910, including Louise who by that time had been working at Western Electric for two years, according to her obituary.
In 1913, her younger brother August Jr. passed away at age 20. He'd been working as a bookkeeper at a brewery.
Louise has one of the longer and more informative obituaries of those that ran in the July 31st special edition of the Chicago Tribune, which I have transcribed:
RADOLL — Miss Louise, who was to have been the "Queen of the carnival" at the Michigan City celebration, was born in Chicago 25 years ago. She was graduated from the George H. Thomas school seven years ago and went to work at the Western Electric plant shortly after. Accompanied by a brother and Miss Mary Vavra, 5227 W. 24th-pl., both of whom were saved, Miss Radoll boarded the doomed Eastland a few minutes before it keeled over. She lived at 4110 Cornelia-av. She is survived by her mother, Mrs. Frida, and was a sister of Charles, Albert, John, Edward, Anna, Ida, and Edna Radoll.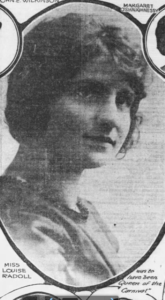 From the way this is phrased, it sounds as if Louise completed high school, a fairly rare achievement for a working-class girl in those days, but it seems likely from the wording and the fact that she would have been seventeen when she graduated. She was twenty-five, too, when she died, and as yet unmarried which makes me think she may have been ambitious and independent. As she was meant to be Queen of the carnival, I imagine her to have been lovely Gibson girl type. I couldn't find any pictures of her, alas (edit: I later found a picture).
It appears her mother received a settlement after Louise's death, and the family continued to live on Cornelia Avenue for the rest of her life. A house that looks to be the proper age (probably build around 1910 when the family first listed that as their address) still stands at 4110 West Cornelia, but by the 1940 census, five years after their mother's passing, none of the single adult Radolls who'd lived there with her were still at that address, so most likely her estate was liquidated and divided among the surviving siblings after her death.
Louise's youngest sisters, Edna and Ida (who started going by Edith sometime after 1920) never married, and in 1940 were living together just around the corner from Cornelia. Cornelia had been a 2-flat (though it's unclear if the Radolls owned it and rented the other flat or if both were owned separately), and Edna and Edith moved to a single home which I feel they may have chosen to do to live somewhere without other footsteps clonking around. Perhaps they had cats or a garden. But it's nice to know they were able to afford a place in their same lifelong neighborhood.
Edith worked for many years at a book bindery (which as a former librarian is a detail I just love) and Edna worked as a stenographer, according to one census for a law firm.
It's impossible to know if they were modern young women who didn't want to be tied down or if their mother held her surviving, single children close discouraging them from marrying. Second oldest brother Albert married at 48 for the first time (and he married the widow literally next door as she'd lived in the other flat at 4110 Cornelia), but he died just ten years later. The rest of Louise's surviving siblings all married and lived for many years after her death.
The family burials are a bit oddly arranged at Concordia. All the headstones look very similar, but they are scattered between two lots, one in Section 9 which holds August Sr., Louise, and the three lost-in-childhood siblings, Freddi, Ferdinand, and Paul who share a marker. August Jr. is buried in Section 11 which seems strange since he died before Louise, but here's my thinking on that: When August died, Frieda bought a new lot, keeping the empty space in Section 9 by her husband's side for herself, but when Louise died, I think she felt Louise needed to be with her father and so she gave up her place beside August Sr. to her daughter. When she died twenty years later, she was intered beside her son.
RIP Radolls
Please visit my Instagram for any questions or comments on this post!