17 August 1893 – 24 July 1915
The Eastland, one of five chartered excursion boats meant to ferry employees, their families and friends from Chicago over to the Michigan City shore for the annual Western Electric Company picnic, keeled over into the Chicago River while still at dock, trapping hundreds inside its hull and leading to the deaths of 844 of the 2,500 passengers aboard at the time of the incident which became known as The Eastland Disaster.
---
Annie was the oldest of four living siblings born to German immigrants Carl and Caroline "Lena" Friederike Droheim Meicke (per the 1900 census, Lena had at least two more children who died in infancy). The couple married in Prussia in 1891 on March 24th (also my parents' anniversary) and emigrated later that same year.
Carl worked a variety of jobs involving hard labor – in the Chicago stockyards per the 1900 census; the lumberyards per 1910; by 1920 he was working as a gluer in a piano factory; and in 1930, shortly after losing his wife, he appears to have been able to retire. By 1940, he had moved in with his son's family.
Annie was six years older than her nearest-in-age sibling Ida, ten years older than sister Margaret, and twelve years older than her baby brother Herman. In 1915 when she died, the two younger children were still quite young and even Ida was only sixteen.
Annie herself was twenty-one years old and had been working at Western Electric for two years, according to her obituary. Per her death certificate, she'd been a clerk.
The family seems to have been close, and the census records show them all together through 1920. At some point after that, the children married and moved away, leaving their father alone in 1930 after Lena passed in June of 1929 at the age of 63.
Annie's sister Margaret married and had children but died at only 48 years old. Annie's other two siblings lived into their 80s as did their father, with Ida living to 89 and Herman to 83. Carl was 88 when he passed away in 1953.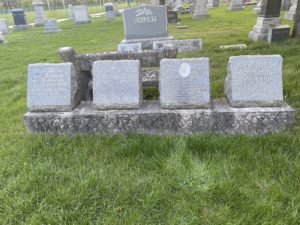 Carl, Lena, and Annie are all buried together at Concordia. Annie's siblings are interred with their spouses in other cemeteries. It's unclear where the lost infants were laid to rest.
Annie's maternal uncle Wilhelm Droheim is also buried with his sister's family in Concordia. Wilhelm appears to have immigrated around the same time as his sister and brother-in-law did, but he died in 1892 without ever meeting the niece beside whom he is buried.
Annie's headstone has a great deal of writing inscribed on it – almost impossible to make out due to time, the type of stone used, and the German typeface. It is also in German which adds a level of difficulty. I can't tell if it's a poem or verse or an epitaph. There was once a cameo on her headstone which has sadly been lost to time.
RIP Annie and family
Please visit my Instagram for any questions or comments on this post!