Alma Zielske
26 October 1893 – 24 July 1915
Lillian "Lillie" Prochnow
21 February 1898 – 24 July 1915
(several records say Lillie was born in 1897, but her birth certificate says 1898)
The Eastland, one of five chartered excursion boats meant to ferry employees, their families and friends from Chicago over to the Michigan City shore for the annual Western Electric Company picnic, keeled over into the Chicago River while still at dock, trapping hundreds inside its hull and leading to the deaths of 844 of the 2,500 passengers aboard at the time of the incident which became known as The Eastland Disaster.
---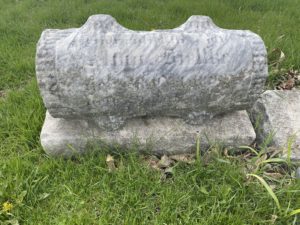 I am not fond of these little bolster headstones. They seem particularly vulnerable to erosion, even the ones not made out of melty marble (which may be melty limestone or perhaps liquidy limestone for the alliteration), but many of the Eastland graves have these, so you'll just have to take my word for it that these ARE Alma and Lillie's headstones. The girls are buried in separate sections, each with her own family.
Alma and Lillie were cousins, with Alma's mother and Lillie's father William being siblings (though they were born fifteen years apart). Alma worked at Western Electric as a spring operator (whatever that was), and the just over four-years-younger Lillie worked as a laundress. The girls were close, and on the day of the picnic, Lillie was I'm sure delighted to join her older cousin on the adventure.
Alma's immediate family had been rocked by a series of losses throughout her young life. Her parents – Theodore and Amalia "Mollie" Prochnow Zielske – immigrated from Germany long before she was born, her mother only nine years old herself when her family came to the US and her little brother William not yet born. The couple married in their early twenties, and unlike many families, they didn't have many children – only three – and only one was lost in childhood.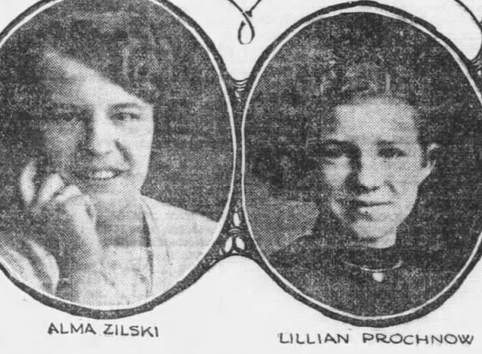 Alma's brother Otto was ten years older than she was, and it's unclear where in the birth order their lost infant sibling fell. Otto lived at home with his mother and younger sister, though, into his 30s, taking over the role of man of the house after his father passed away at only 45 years old. It appears his father ran a grocery store and Otto took that over from him, though he had already been working in the store at the age of 16 according to the 1900 census.
When their father died, Otto was just 20 and Alma 10. Alma entered the workforce probably around the age of 14 or 15 after finishing eighth grade as was common at the time for working class young people. According to her obituary, she'd been working at Western Electric for six years so had been sixteen or seventeen when she hired on there.
Less than a year before Alma's death, Otto passed away having only just turned 31 years old. He never married. This is another situation where one wonders if there was some hereditary health issue that led to both father and son dying so young, but of course there are many possible causes including disease or chronic ill health, accidents, mayhem, murder, or even substance abuse. According to her obituary, Lillie lived with Alma and her mother at the time of her death, and it appears as if they may have moved after Otto's passing, so perhaps she'd joined them to help out during their mourning. Her own mother had passed away quite young when Lillie was only four years old and with the missing 1910 census, there's no way to know when the cousins first lived together.
After her daughter's death, Mollie moved to Cicero where she passed away just over two years later. It's unclear if she moved in with family, and Lillie's obituary states that both her father and sister Anna were living in Indiana in 1915, but it's possible they all reunited in the wake of their losses. It might also have been Mollie's other surviving sibling Ida with whom she went to live. Though Alma's obituary referred to Mollie as her "aged mother," she was only 60 years old at the time of her death.
Lillie's father lived for another 23 years after her death. He never remarried and lived with his only surviving child, daughter Anna and her family, until his death.
RIP Prochnows and Zielskes
Please visit my Instagram for any questions or comments on this post!