Andrew "Andy" Schatz
22 March 1885 – 9 March 1930
This headstone is from the "select singles" section of the cemetery which I believe means that instead of a lot, you're literally just buying one plot. There are a few areas where there are several people from the same family close to each other, but it's laid out very differently from the other sections with the traditional lot/multiple plot layout.
Andy and his wife Barbara were both from Austria-Hungary (now Romania) and met and married in the United States and had three daughters.
His name is fairly common so it's a little difficult to pick out the records that are just about him from the pile, but in 1920 he was working as an elevator operator at a factory, a job that enabled him to own a home on Elk Grove Avenue. The building appears to still be there but the Google Street view of it is obscured by a lot of really pretty trees. It's still a residential road though, and the buildings look about the right age.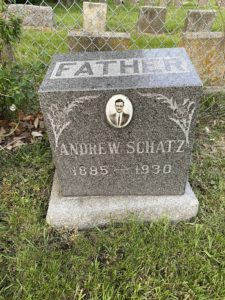 His World War I draft card from 1918 also has the same residential address and gives us more information about where he worked, a yeast factory on the corner of Ashland and Wabansia in Chicago.
He became a naturalized citizen in 1925. As usual for Illinois death records, we get no cause of death but he was only 44 at the time, just a few weeks short of his 45th birthday, and still living on Elk Grove.
The 1930 census shows his wife, youngest daughter, and oldest daughter and her husband (who are both working) all living together at a new address, and hopefully the surviving family all did well from there.
RIP Andy
Please visit my Instagram for any questions or comments on this post!