Irwin Nagel
May 1895 – 24 July 1915 (aged 20)
Margaret Nagel
December 1897 – 24 July 1915 (aged 17)
The Eastland, one of five chartered excursion boats meant to ferry employees, their families and friends from Chicago over to the Michigan City shore for the annual Western Electric Company picnic, keeled over into the Chicago River while still at dock, trapping hundreds inside its hull and leading to the deaths of 844 of the 2,500 passengers aboard at the time of the incident which became known as The Eastland Disaster.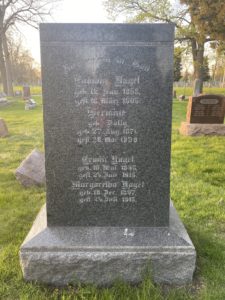 Irwin and Margaret Nagel were the only surviving children of Ludwig and Hermine Dally Nagel, German immigrants who'd arrived as adults and married in the US in 1894. Louis was ten years Hermine's senior and worked as a painter. It's unclear if this was as a house painter or as an artist.
In 1905, when Irwin was ten and Margaret seven, Ludwig died and was the first interred in this family plot. In 1907, Hermine remarried to John Lipske. John was also widowed with two children — Clara a year older than Irwin and John four years younger than Margaret. John worked as a brick layer. In 1910, the is little blended family were living in a mortgaged house in West Garfield Park. John had spent the year mostly out of work, but Clara, then 15, was working as a knitter at a factory and Irwin, 14, was working at a tailor's shop. Margaret was still at school, but it's likely she went to work at around fourteen years old.
At some point after this, both she and Irwin went to work at Western Electric, and on the day of the disaster, they'd gone to the outing together. One can imagine the two siblings being perhaps closer than usual having suffered the loss of a father, the years of their mother's single widowhood, and then figuring out how they fit into a new family with a new father and siblings.
Hermine and John had no more children, but from her obituary it seems Hermine was beloved by her stepchildren and their families. When she passed away in 1938, she was buried with her first husband and children. John was buried with his first wife as well, elsewhere in the cemetery, and step-sister Clara and her husband are also interred at Concordia.
I do wonder about the headstone as it's quite grand for a family that seems to have been working class and at least sometimes had trouble making ends meet. Perhaps Hermine wanted to spend some part of any settlement they received honoring her lost children. Perhaps her late husband was a fine artist and not a housepainter and friends of his wanted to honor his children by providing a beautiful headstone.
Whatever the case may be, it is the most striking of all the Eastland headstones at Concordia.
RIP Nagels
Please visit my Instagram for any questions or comments on this post!