Johann "John" Beutner
23 March 1849 – 14 March 1923
Sophia Elizabeth Boldt Beutner
7 January 1850 – 24 November 1927
Maria "Mary" Beutner Holpuch Kojisek (Kozisek)
3 August 1874 – 28 December 1957
Johann "John Thomas" Beutner
15 February 1877 – 18 November 1925
Karl "Charles William" Beutner
28 September 1886 – 18 February 1958
Helen Rosentrater Beutner
2 April 1886 – 12 September 1944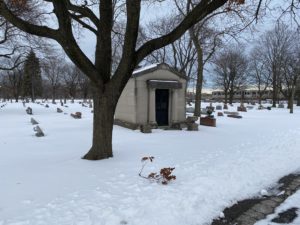 This mausoleum is tucked away way at the back of Concordia facing toward the highway. In the winter, it has a view of the El tracks; in the summer, it seems like the most private, secluded location in the entire cemetery.
I did some research on this family and found some information but no real story emerged. There are no great lows or dramas that showed up in the public records, the most dramatic thing being that oldest son John Jr divorced when his children were young and died a few years later in his late 40s, but his ex-wife and children stayed close to the family, most of them living near each other in Pilsen.
John Sr and Sophia both immigrated around 1870 from Germany and married in 1873. They had three children, Mary, John Jr, and Charles. Mary had four children and John Jr had two. Charles and his wife Helen do not appear to have had any children.
Mary lost her first husband in 1918 after her children were grown, and she remarried thirteen months later to a man who'd also lost his wife the previous year — perhaps in the pandemic. Her second husband was 24 years her senior. With her children gone from home and her extended family close-knit and financially stable, one presumes this was a love match.
John Sr and John Jr were butchers and apparently did very well as the family prospered. In 1920, most of the family (minus Mary) shows up on the census living on a farm out in what was then the countryside of Palos while still owning property in Pilsen (John and Sophie unlocked the "counted twice" achievement badge that year). It is not clear if the farm was a change in occupation or a supplement to it or just a working country home to escape to, and it's unclear how long they owned it.
The mausoleum was likely erected for John Sr who died in 1923. Two years later John Jr died, and then two more years later, Sophia passed and both were interred in turn. Charles seems to have then inherited his parents' house in Pilsen and is listed as living there and in the house he and his wife owned previously in various records. By 1940, he's no longer working. The farm doesn't come up again, and I'd hazard that it was sold off when John Sr and Jr passed.
Mary's second husband passed away in 1939 at the age of 89. Both her husbands are buried at the Bohemian National Cemetery in the city. Charles's wife Helen passed away in 1944 and was interred in the mausoleum.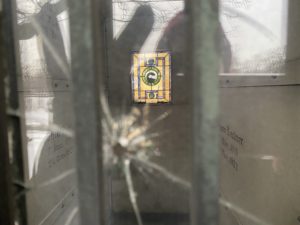 Mary and Charles live near each other in Pilsen for another thirteen years and then passed away just a few weeks apart, Mary dying just after Christmas in 1957 and Charles passing in February 1958. No nieces or nephews are mentioned in Charles' obituary, and the post-war world was very different from the neighborhood enclave lives he and Mary lived, but I think that the pair at least had each other in their later years and now the family is all together.
It's interesting that while all public records use the Anglicized versions of the family's names, the engravings inside the mausoleum are all the German versions (Karl instead of Charles; Johann instead of John; Maria instead of Mary). The 1920s and after were perhaps a difficult time to express pride in having German roots, so maybe this was a private way for the family to do just that.
The glass on the front door of the mausoleum has what appears to be a bullet hole in it but there doesn't seem to be any damage in the interior. It may also be due to storm damage, perhaps a stone hurled into the glass by the high winds, as this part of the cemetery took very heavy damage in the derecho last summer.
RIP Beutners
Please visit my Instagram for any questions or comments on this post!