1 December 1914* – 14 June 1983
Chuck Magid was born in Winnipeg, Manitoba, but was attracted by the spotlights from a young age. We first encounter him stepping foot into the US to see a show in Detroit just after his nineteenth birthday, a short visit but perhaps an important one in his life, for less than two years later, he crossed the border at the same spot and began his journey toward becoming a US citizen.
When we come across him next via his draft card, filled out on 16 October 1940 in Charlotte, North Carolina. At this point, he lists himself as self-employed in show business and without a fixed place of business. His next of kin is his wife, Mrs. Charles Magid (thanks, Chuck; helpful) who we know from other records is Violet Earle Magid.
Though married, almost thirty years old, and not yet a US citizen (as Canada was not yet an independent nation, he would have been a British National), he enlisted in the army on 19 February 1943 at Camp Croft in South Carolina. This was a short-lived adventure, and he was discharged on 29 July 1943. A note on his draft card is hard to interpret, not properly lining up with any of the discharge codes I could find, but it seems to indicate some kind of problem occurred during his service that led to the discharge rather than an entry level or medical separation. However, he still was able to state he was honorably discharged on his naturalization papers so whatever gray area he fell into, it was put behind him, and he became a citizen on the auspicious date of 6 June 1944.
From there, Chuck and Violet headed to Florida, but their marriage was not to last. It appears the couple split up around 1945. By 1949, however, Chuck had remarried and he and second wife Mary Edith welcomed their only child, Timothy. Mary Edith and Chuck divorced just two years later. There are indications that both ex-Mrs. Magids stayed in Florida and eventually remarried.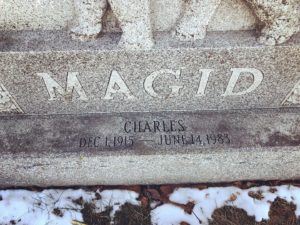 Chuck eventually landed in Chicago, however, at some point along the way becoming a "well-known outdoor amusement businessman," to quote his Chicago Tribune obituary. From the location of the funeral home, I'm guessing he lived somewhere in the North Shore area.
He's buried at Showmen's Rest at Woodlawn and though his grave is outside the elephant-bounded borders of what was likely the original paramters of the section, Chuck seems to have thought of that as he brought his own elephant along with him.
*All of his official records list his birthyear as 1914. Not sure why his headstone is off by a year but it is!
Please visit my Instagram for any questions or comments on this post!