Jeanette "Jeanne" Tarcov
9 November 1916 – 10 September 1940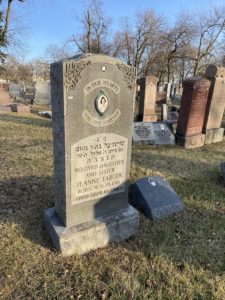 Jeanne was the middle child of six born to Nathan and Mary (Gordik) Tarcov. She's buried bside her closest-in-age sister Gussie, who died six months before she was born.
According to the 1940 census, taken in April of that year, all the siblings still lived at home with their parents and only the oldest, Anita, was married. Nathan was a rug salesman. All the Tarcov children finished high school, and at least son Oscar went to university. Jeanne was working working as an office clerk.
Her parents, sisters Florence and Anita, and Anita's husband Al Muchman were involved in a bizarre home invasion just two years later, and though no one was hurt, it's clear the robbers expected the Muchmans to have jewelry and cash and held the family hostage waiting for Al to come home. I didn't find a follow-up so it's unclear if the crime was ever solved.
Nathan died in 1946 and was buried a row in front of his daughters. The rest of the children married and moved out in the 1940s, but Mary continued to live with the Muchmans at least as late as 1950. She died in 1967 and was buried with her daughters and husband at Waldheim.
Brother Oscar moved to Manhattan after 1950 with his wife Edith and their two children. He was a writer, English teacher, and also did some activist work based on his 1950 census answers. He and Edith coauthored a book titled The Illustrated Book of Jewish Knowledge which was published in 1959. He was prominent enough to have an obituary written up in the New York Times (though I'm not paying for a subscription just to read it). Sadly he died quite young at only 45 years old.
Florence and youngest sister Ruth both lived into their 80s, and Anita lived to be 90. Both she and Ruth mentioned Jeanne in their obituaries (and Ruth mentioned Gussie).
RIP Tarcovs
Please visit my Instagram for any questions or comments on this post!