25 November 1886 – 24 July 1915
The Eastland, one of five chartered excursion boats meant to ferry employees, their families and friends from Chicago over to the Michigan City shore for the annual Western Electric Company picnic, keeled over into the Chicago River while still at dock, trapping hundreds inside its hull and leading to the deaths of 844 of the 2,500 passengers aboard at the time of the incident which became known as The Eastland Disaster.
---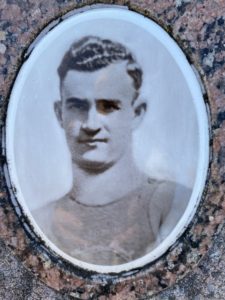 Samuel was both a hero and a victim of the Eastland Disaster. When the ship overturned, he was thrown into the water along with his friend and coworker Philip Ginsberg, and, being an expert swimmer, he began to immediately save others. It's estimated he rescued about 40 people from the water before he fractured his skull while diving back in to try to save more and lost his life (this from the Forest Park Historical Society's booklet on the Eastland Disaster). His friend also perished, and their families held a joint funeral for the men, though Ginsberg is buried at Oak Woods rather than at Waldheim. According to the Red Cross report, Samuel was to have been in charge of the swimming races at the picnic. The Red Cross conflicts on cause of death, explaining it as exhaustion from his efforts to save others leading to his drowning.
Samuel had been married for about seven years at the time of his death, and his wife Rhoda "Rose" (nee Spingold) had been pregnant. This may have been what saved her life if she chose not to go to the picnic due to this, but the shock of losing her husband resulted in a miscarriage. Rose moved away from Chicago shortly after and remarried in 1916. She and her second husband, a successful salesman, had two sons together, and she lived out the rest of her life in Manhattan and is buried there. Both of her sons went on to work in Hollywood, her younger son becoming a very successful television series creator and producer in the 1960s.
Samuel was the oldest child of ten children (all surviving childhood) of Ephriam (called Frank) and Anna (Wertheimer) Widran. The family was originally called Widranowitz, but eventually changed their name to Widran. Sam and his fellow oldest brothers, Harry and Louis, were all born in Austria-Hungary (from his parents and later records of his siblings, in what is now Hungary). The rest of the siblings, starting with oldest sister Rose, were born in Chicago after the family immigrated around 1892. In total, there were five brothers and five sisters born between 1886 and 1905.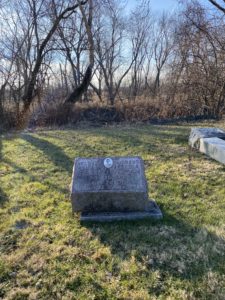 The family continued to use Widranowitz well after their arrival in the US. As late as 1910, over a year after his marriage to Rose, Samuel was still using his full surname. Sometime between then and his death in 1915, he'd shortened it, and though his parents were still going by the longer version in 1920, they too shortened the name prior to their deaths in 1934 (Frank) and 1943 (Anna). Samuel's parents and some of his siblings are also buried at Waldheim but not in the same sub-cemetery. It appears Samuel is alone on his lot.
His father was an optician, and it seems likely Samuel had a very good education as his job at Western Electric (WE) was as an auditor (and in earlier mentions, as an electrician so this title might be related to that specialty). I also think he must've had more education than we're used to seeing from his WE coworkers' stories because the cameo photo on his headstone looks to be a yearbook-style photo for a sport, almost certainly from a swim team. This may also have been an intramural or social club photo, but it has a very collegiate feel to it.
Samuel had worked for 6 years at WE at the time of his death and made very good money, bringing home $26/week which was on the high end for salaries among the WE victims. He had also worked at WE long enough for his widow to receive a substantial death benefit from the company (which seemed to have been determined by length of employment and amount of pay, the benefits starting after about 5 years of employment). According to the Red Cross report, the total death benefits paid by WE were $701 and the Red Cross provided $600 from the Eastland Fund. Samuel had also invested in AT&T stock through the company and this was cashed out to his widow according to WE records at a value of $25.20.
As I found so much information on Samuel himself and his wife, Rose, I didn't follow his siblings in too much detail. His sister Rose sadly died just a few years after her brother, and he was mentioned in her obituary (she is buried elsewhere at Waldheim). What touched me most, though, was finding his youngest sister Leona's obituary from 85 years after his death, still remembering both him and his widow (herself long dead) with love. Leona had only been nine years old when her big brother died, but it's clear neither she nor their family ever forgot him. Leona was the last of the siblings to pass, but all but Sam and Rose lived to old age, most into their 70s and three (including Leona) into their 90s.
RIP Widrans
Please visit my Instagram for any questions or comments on this post!
Thank you to the Eastland Disaster Historical Society for providing additional documentation in support of this project.