7 July 1897 – 24 July 1915
The Eastland, one of five chartered excursion boats meant to ferry employees, their families and friends from Chicago over to the Michigan City shore for the annual Western Electric Company picnic, keeled over into the Chicago River while still at dock, trapping hundreds inside its hull and leading to the deaths of 844 of the 2,500 passengers aboard at the time of the incident which became known as The Eastland Disaster.
---
Herbert was the oldest of four children born to Chicago-born Charles and German-born Ida (Rossow) Buelow. Ida had immigrated as a child with her family to Chicago, and she and Charles married in late November 1896. Eldest Herbert was born just over seven months later. Daughter Edna was born in January 1899; brother George was born in November 1900; and youngest William was born almost 3 years later in October 1903. Ida reported only four children born on the 1910 census, so it seems the Buelows were a rare family where all children born survived infancy.
Charles worked at a newspaper as his brother-in-law Herbert Rossow also did, and evidence suggets this was a good living. Between 1900 and 1910, the family added two children and moved into a single-occupancy house on South Harding in what is now the Little Village neighborhood, all on just Charles' paycheck (the house is still standing).
It seems the family were close to their Rossow cousins, and Herbert was almost a year exactly younger than his cousin Ralph (profiled earlier) whom he had invited along to the picnic. Sadly, both young men died in the disaster.
At the time of his death, Herbert had worked at Western Electric (WE) for 2 years and 2 months. His pay was $12/week which was decent for his age and experience at the company. WE paid for his funeral — a somewhat higher payout than usual for funerals at $196 — but no relief money was paid out, and I didn't find an entry for him on the Red Cross roster, so that seems to be all the family received, barring any unlisted insurance settlements.
The 1920 census shows the surviving members of the family still living together at the same South Harding address. All the younger children were in the workforce by 1920 with both younger sons appearing to be working at Western Electric. Edna's occupation was listed as typist at a mail order house which is also the industry her father is listed as working in. It isn't quite clear what kind of work Charles did but whether this was a job-change from his previous newspaper work or just an odd change in how his his job was described, by 1930, his occupation is specifically newspaper-related again.
Edna married in 1922 and moved out, but in 1930, both boys were still living with their parents. Sadly, George had married in the intervening years but had been widowed. He was listed as divorced on the census, but his first wife had died in 1928 and is buried on the Buelow family plot with "Beloved Wife of George Buelow" inscribed on her headstone, so that must have been a transcription error or miscommunication. The family had moved from South Harding by 1930 and were living on South Mason Avenue in an even nicer single-family home that is also still standing — just south of Oak Park.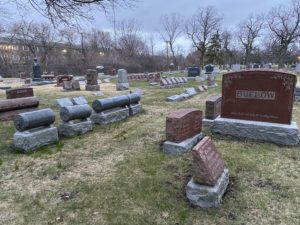 Charles died in 1932 and, prior to 1940, both brothers had married, and Ida had moved to an apartment in Oak Park that appears to have been a victim of the creation of the Eisenhower Expressway. One presumes the South Mason house was sold. For at least a few years, Ida lived alone, but when she passed away, she was living in Berwyn with her son George and his second wife Anna, just a couple of blocks away from daughter Edna and her family.
Of the three surviving siblings, Edna had the only grandchild, a daughter named Lois who was 20 years old when her grandmother died. When George died in 1962, he was buried with first wife Alice on the family plot in Concordia. His second wife Anna was buried at Resurrection Catholic Cemetery when she died, so theirs must have been a two-faith marriage. William, who died in 1968, and Edna, who died in 1979, and their spouses are all buried at Chapel Hill West.
All three siblings were outlived by their spouses, and one of the favorite details I found in my research for this profile was that in William's wife Lillian's obituary, George's widow Anna was listed as her "dear sister in law" many years after both their husbands' deaths. It gives a sense that this was a close and warm family, and I hope it was.
RIP Buelows
Please visit my Instagram for any questions or comments on this post!