30 July 1893 – 24 July 1915
The Eastland, one of five chartered excursion boats meant to ferry employees, their families and friends from Chicago over to the Michigan City shore for the annual Western Electric Company picnic, keeled over into the Chicago River while still at dock, trapping hundreds inside its hull and leading to the deaths of 844 of the 2,500 passengers aboard at the time of the incident which became known as The Eastland Disaster.
---
Herbert was just six days from his 22nd birthday when he died in the Eastland Disaster. He was the middle child of six (four surviving to adulthood) born to Emil and Elizabeth (Pahnke) Taube, who'd both immigrated to the US from Germany as children.
The couple married in September 1887 and at the end of March 1888, their oldest child, son George, had arrived. By 1900, they'd had five children together: in addition to George, daughter Elsie (1892), Herbert (adorably listed as Herbby on the 1900 census), and Bernhard (1898) as well as one unknown child lost in infancy prior to that census. In 1903, youngest Clarence was born.
Also living with the family in 1900 was Elizabeth's mother Carolina — widowed years before when her children were still young. Carolina died in September that same year. Sadly, little Bernhard died just two years later and was the first interred on the family plot. I believe Carolina is also buried at Concordia, but I can't find a death record with enough information to confirm that. There is no headstone for her on the family plot, but it's possible that she's buried with husband Frederick who died around 1876, just a handful of years after the Pahnke family immigrated to the US, but I also couldn't find his death record so their burial location is currently unknown.
In 1909, George married Bertha Kunkel and moved out on his own. In 1910, the census shows the rest of the surviving family members were all still living together, now with baby Clarence and Elizabeth's bachelor brother Charley who worked as a finisher. Both Elsie and Herbert were also working, Elsie as a tie maker, Herbert for a magazine distributor. Elsie married Frank A. Tiessler in 1912 but he tragically died just 3 years later in March of 1915. He was buried on the Taube family plot at the far end from where little Bernhard was laid to rest. 1915 would soon bring more tragedy to the Taube family.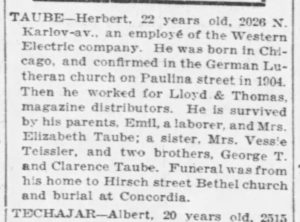 Herbert's obituary in the Chicago Tribune's July 31st special edition that followed the disaster is one of the more detailed ones and includes information about his upbringing and prior employment, though it doesn't give any clues as to what took place that fatal day before the disaster. That is, we don't know who he was with or if any family went with him. Western Electric had several associated social organizations, most initially aimed at male employees and expanding later to include their female employees. As Herbert had been working at Western Electric for about 2 and 1/2 years at the time of his death, it's likely he was either with or planning to meet up with friends from work on the day.
He was survived by his parents, brothers George and Clarence, widowed sister Elsie, and though not mentioned in the obituary, by his Uncle Charley who continued to live with the family. While obviously working class, the Taubes were not a family dependent on any of their children's incomes, and that is supported by the aftermath of Herbert's death. Western Electric paid a flat $200 for his funeral expenses but gave no relief money to the family. The Red Cross also doesn't appear to have paid out any relief funds to them, and the only probate info I found had Herbert's name and death date filled in and nothing else, implying nothing was done beyond that. Herbert was buried next to his little brother Bernhard, the words "Eastland Victim" inscribed below his death date.
In 1920, it appears the family had pulled closer together in the wake of their losses. Though George had moved out and away when he married, on this census, he and his family were living next door to his parents and Clarence. George appears to have had a larger flat as Elsie was also living with his family, and the household also included not only George, his wife Bertha, and their two young sons but the Taube's Uncle Charley (Pahnke) and Bertha's brother Fred (Kunkel) as well.
In 1924, Emil died and was buried between his sons and son-in-law. He was only 61. At some point after 1920, Elsie remarried to Edward Marman who had divorced from his first wife after only a couple of years of marriage. He and first wife Anna had married extremely young – from the timing likely due to a pregnancy – and had two sons together, but it seems after the young couple split, Edward had nothing to do with his children again. They took their stepfather's name a few years later when their mother remarried and neither are mentioned in Edward's obituary.
Very sadly, Elsie herself died just a few years later in 1927 and without having any surviving children. She was buried beside first husband Frank but her name isn't on her headstone. Instead, the inscription names her only "Wife of Edward Marman" which I find frankly awkward and a bit sad. Edward eventually remarried but had no more children. He and his third wife Harriet are buried at St. Joseph's Catholic Cemetery in River Grove.
In 1928, Clarence married Jeanette "Jean" Benson, and by 1930, they'd moved into their own place. George and his family had moved to Sayre Av where they would live for many more years. Elsie was gone, but widowed Elizabeth had moved in and her brother Charley was also still living with his nephew's family.
Charley and Elizabeth were still living with George in 1940 as well, but Clarence and Jean had moved to Wisconsin where Clarence was a gardener and Jean worked at the state hospital.
Elizabeth died in 1946 at the great old age of 78, having lived to see her two grandsons grow up. She was buried at Concordia with her husband, sons, daughter, and first son-in-law. Charley died in 1949 and was also buried at Concordia, but he died in Wheeling and doesn't appear to have been living with George at the time of his death. Elizabeth had several siblings so it's possible Charley went to live with another sibling's family after her death.
At this point only George and Clarence were left of the Taube family, and George was the only Taube child to have children of his own. Though the evidence is sparse, it appears the brothers were close. Both are buried at Fairview Memorial Park (aka Memorial Gardens Cemetery), and Clarence's obituary lists George's sons and wife as his survivors. George died in 1963, Jeanette in 1969, and Clarence in 1970. Bertha was still alive at that point, but I couldn't find a death record for her. I presume she is by now buried with George.
RIP Taubes
Please visit my Instagram for any questions or comments on this post!