Rose Netsky Berger
15 September 1898 – 15 January 1925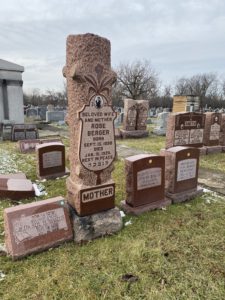 Rose was born in Russia, probably close to Poland (or what was then the German Empire). Her family immigrated to the US in 1904 where her father worked as a tailor. She was the oldest daughter of 8 children who survived to adulthood (of 12 born).
Shortly after she appeared on the census, still living with her family, a single young woman working at a factory, she married WWI veteran Mandel Berger, a bookkeeper who would later work as a jeweler. Eleven months later, their first child, Helen Shirley, was born (though, preferring Shirley, she switched the order of her given names after she married). Their son Harold was born in April 1924.
Sadly, Rose died the following year in September when Shirley was not quite four and Harold was just 18 months old. She was buried with Mandel's family at Waldheim and this lovely headstone beautifully commemorates her.
Mandel remarried about a year later to a young woman named Sarah. On the 1930 census, we glimpse this little family, but more tragedy was ahead. Just three months after the census, Mandel also died at only 34 years old. He and Sarah had no children together, and after his death, Shirley and Harold went to live with their maternal grandparents, only to lose their grandfather Sam, too, just four years later. Fortunately, Grandmother Dora lived a good, long life and gave the children stability for many more years.
On the 1940 census, Shirley, now 19, and Harold, 16, were living with their grandmother, two uncles, and two aunts. Shirley had recently finished high school and was just entering the workforce; Harold was in high school. In 1942, Harold enlisted, serving in WWII in the signal corps.
He survived the war, married, and lived a long life. Shirley also married after the war, had children, and lived to old age. Both she and Harold moved to Skokie after the war and appear to have stayed very close through the rest of their lives.
RIP Netsky-Bergers