16 March 1851 – 18 April 1915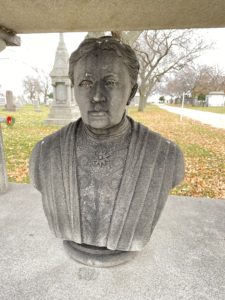 Mary was born in Ireland as was her eventual husband John O'Brien. They met and married in the US in 1871, after he had immigrated to get into the lumber trade around 1867. He arrived as a recent graduate of Christian Brothers College in Dublin (which was a private Catholic high school).
John was successful working for others in the trade, and in 1880, he founded his own lumber business with a partner; in 1902 he founded a new, eponymous lumber business as a family concern. His son, John Jr., was his vice president and took over the company after John Sr's death. John Jr died in 1916, just a year after his mother passed, and he's buried with his parents.
There is far less to find in the records about Mary in part because of how common the family names are. There were several John and Mary O'Briens in Chicago at the same time and many Mary O'Briens and Mary Lanes. There's even another same-named couple buried at Calvary.
What we do know is that she and John together had nine children, all of whom survived to adulthood. On the 1900 census, she listed nine living of nine born which is amazing for that time period.
We also know that she was obviously very loved by her children. Though their father predeceased her, it is their mother the children memorialized by having a bust made in her likeness.
RIP Mary and family