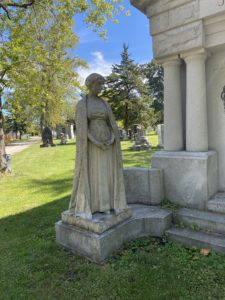 Karel Vaclav Janovsky (1876 – 1962) emigrated from Bohemia at the age of 14. He used "Johns" as an Anglicized surname but over time (and likely due to finding the tight-knit Bohemian community in Chicago) used both names to the point that he hyphenated them on the family mausoleum.
He married first wife Mary Theresa Kleker (1876 – 1926), a Chicago native, in 1899 and their marriage lasted until her death. They had no children together, and judging by Mary's answers to the 1900 and 1910 census records, it's possible she could not have children.
Karel became a US citizen in April 1897 at the age 21. In December of the same year, he enlisted in the army and fought in the Spanish-American War after which it appears he mustered out. A year later, he married Mary. He was successful in real estate and insurance, and he and Mary traveled widely. I found passenger records for separate trips to Cuba, Germany, Belgium France, and England.
It appears Karel purchased the mausoleum upon Mary's death and had the statue of her created to stand outside. It's a gorgeous, life-sized figure of a lovely Edwardian society matron welcoming her guests. Though there isn't a date on the mausoleum exterior to indicate when it was built, Mary's initials are inscribed on the decorations on the doors which supports my theory.
Karel remarried two years later to Anna Freuhauf (1902 – 1985) who was 26 years his junior. Together they had two sons, both of whom used Johns as their surname.
According to the write-up on his findagrave.com record, Karel was good friends with Anton Cermak, the Bohemian-born 35th mayor of Chicago, and their mausoleums are across from each other at a very lovely intersection at the cemetery.
Please visit my Instagram for any questions or comments on this post!