1864 – 5 January 1905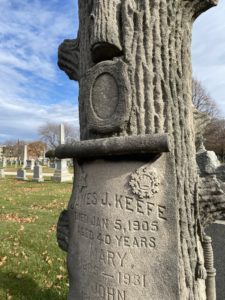 James had been a policeman for 14 years and had reached the rank of detective at the time of his death. He had married Mary Moroney (1865 – 1931) in 1884 and together they had four children, all of whom lived to adulthood: Thomas, John, Joseph (known as Dode), and Mae. Youngest Mae was only about 10 years old when her father was killed in the line of duty.
James' findagrave.com record has a transcribed article from a Phoenix, Arizona newspaper about the incident in which he was killed, likely thanks to an early syndication situation, but it was a pretty dramatic shoot-out so it's unsurprising it was widely reprinted. The hot pursuit of the suspect who shot James was wanted in relation to a prior killing of a police officer. 1905 feels a bit early for such a sensational, guns-blazing story — it feels as if it would fit in neatly during Prohibition — but the ending was a tragedy for the Keefe family. There is also a less sensational write-up of the incident on the Officer Down Memorial Page site.
There is also a good write-up of the (later convicted) suspects in this 7 January 1905 Chicago Tribune article with a short section about the plans for James' upcoming funeral at the end.
I couldn't find the family in 1900, but in 1910, Mary was renting what must've been a pretty large house as she had taken in eight boarders as well as having her three younger children still living with her. All of the children were also working by that time, and eldest Thomas had married and moved out a few months after his father's death. John married and moved out between the census years as well, and by 1918 when Dode filled out his draft card, Mae had also married and she, her mother and brother had all moved to Newberry Av, along with Mae's daughter who was born in 1914.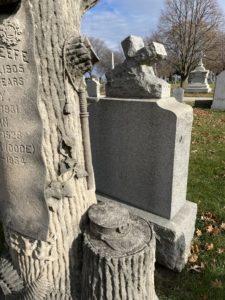 In 1920, Mae's husband Hirsch's occupation was Court Bailiff, but between then and 1930, he had opened a tavern, and it seems to have been a big success. One might suspect him of running a speakeasy behind the scenes to explain the wild success that allowed the family to afford a live-in servant in the first year of the Depression… I suspect it at least.
John sadly he died in 1928 and was buried with his father. Mary passed away just two years later and was buried with her late husband and son. Also sadly, Hirsch didn't make it to the 1940 census, dying apparently while he and Mae were vacationing in Michigan City in 1939. Thomas — who had also opened his own bar in Lake county in the 1930s — died in his 50s in 1942.
On the 1940 census, Mae and Dode were living with Mae's daughter and son-in-law in Mae's former home on Surf Street. The son-in-law seems to have taken over the tavern, and it's possible he had already been Hirsch's appointed successor as his only child's husband, and in that role took over as head of the family upon Hirsch's death.
At some point, Dode married Rose Bell. He was listed as married on his WWI draft card but was single on all census records through 1940 so that's fuzzy. I suspect if there was an 1918 marriage, it may have been annulled, and his marriage to Rose was after 1940 when we last see him on the census.
I couldn't track Mae Keefe Miller after this, but she was the last survivor of James Keefe's children.
This headstone has two police emblems on the front above James's name and on the side, a truncheon hangs from a stump above a carving of a policeman's cap. There was once a cameo portrait of James above the scroll and below the cross at the top. The other names are very simply engraved below James'.
RIP Keefes
Please visit my Instagram for any questions or comments on this post!