26 January 1917
According to findagrave.com, G. Harold Watts (1898 – 1917), whose name is over the door of this mausoleum, died in a car accident at the age of only 18 years old. Even more tragically, Harold was his parents' only child.
His father George (1862 – 1935) was born in Providence, Rhode Island, and came to Chicago in 1895 to enter the milk business where he would become a leader in that industry and was also a bank president for some time. George died of a heart attack at age 73 a few years after his retirement.
Harold's mother Bertha I. Farrell Watts (1871 – 1947) was a Kane County native and was a women's social clubs leader in Elgin and the state of Illinois. She died in San Diego where she was vacationing.
Bertha's older sister Ella Mae Farrell Johnson (1860 – 1935) is also entombed in this mausoleum. Ella Mae had married a bit late in life for the time, in 1893. She and her husband had no children together and by 1910, she was living on her own as well as running her own millinery shop. The couple officially divorced in 1921, though she still listed herself as married on the 1930 census.
The other two niches are empty.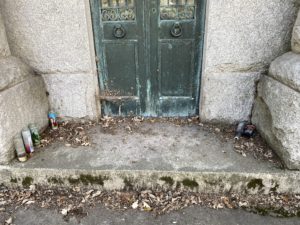 There are prayer candles that look somewhat recent on the stoop outside the mausoleum door. This is a bit surprising as Bertha and Ella Mae's two brothers were also both childless so there were no nieces or nephews and no next generation for either side of this family to have descendants who might visit.
Whoever it is, though, it is nice that someone stops by now and again.
RIP Farrell-Watts family
Please visit my Instagram for any questions or comments on this post!