20 August 1894 – 24 July 1915
The Eastland, one of five chartered excursion boats meant to ferry employees, their families and friends from Chicago over to the Michigan City shore for the annual Western Electric Company picnic, keeled over into the Chicago River while still at dock, trapping hundreds inside its hull and leading to the deaths of 844 of the 2,500 passengers aboard at the time of the incident which became known as The Eastland Disaster.
Louise was a cashier at a restaurant at Western Electric. That is I think the restaurant was at Western Electric. It's listed by several names on various transcriptions so I can't be sure of its name, and her obituary in the Tribune's July 31st special edition says only that she was a cashier at Western Electric.
We get a bit more of a picture of Louise from her obituary than most, though it gets her age wrong and misses several of her siblings in the listing of her survivors. The obituary says she was twenty-two when in fact she was just a month shy of her twenty-first birthday when she passed. It does, however, include the following details
She had graduated from the William Penn school, though it's unclear if she finished high school or only eighth grade before going to work. I think she might have actually completed high school just from the wording of the obituary and from the fact that she was one of the youngest in a large family full of single, adult siblings who also worked which in other research seems to have allowed the younger ones space to finish their studies.
She was also an active member in the Order of the Eastern Star and the Daughters of Rebekah societies. Again, I think this points to her having a bit more time to grow up and pursue her own interests before having to go to work which also reinforces my feeling that she graduated high school.
Louise's family was large and had been through a great deal of upheaval throughout her life, even before she was born.
Her mother's first husband – buried at the southern end of the family lot – was Gustav Rovenstrunk and was the father of her oldest siblings Emily, Rudolph, Frida, and Rosie. Gustav died in 1892, and Susan remarried to Henry Goelitz, a man twenty years her senior who had also been widowed in 1892. I can't find a marriage record for them, but it's likely the marriage took place in 1893. Henry had several grown children of his own, but Louise was born to he and Susan in 1894.
Louise was their only child together before Henry also passed away in 1901. One can speculate about the prior marriages, but after Susan married for a third and final time to Hugh Thompson in 1902, her children all took their stepfather's name. It is Hugh who is listed as Louise's father in most references I could find, but though evidence suggests she did consider him just that, he was not her biological father.
Hugh was also a prior widower. Born in Ireland, he first immigrated to Canada where both his previous wives were from and, sadly, where both died. He had several children with them, the ones younger than 10 in 1900 appearing to have stayed with relatives while the older children lived with their widowed father.
This is all a bit murky as his second wife is said to have died in Canada in 1897 but the birth record for her last child with Hugh (Harold, who is just six months younger than Louise) is in 1895 in Chicago, so it's possible she died while visiting family or that her place of death is wrong on her find-a-grave record. It does seem she was returned to Canada for burial, however.
Whatever the case, all of Hugh and Susan's children from their prior marriages who had not yet gone off to start their own families were living together in a massive blended household by 1910, along with Hugh and Susan's only shared biological child Hugh Jr. And all of the children are using Hugh Sr.'s surname and appear to have done so for the rest of their lives except in the case of a couple of very official documents.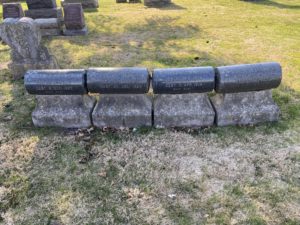 Sadly, in April of 1914, Hugh also passed. The next year, the family lost Louise as well in the disaster, and ten years and four days after that, Susan also passed away. Just a few months before in 1920, the census shows her living with her oldest son Rudolph and youngest son Harold who were born fifteen years apart to two different fathers, but from all evidence in subsequent obituaries, for the rest of their lives, the children of this composite family counted each other as kin regardless of what combination of mother and father they shared if any.
Susan was buried between her first and third husbands while Louise is interred on the other side of the man whose name she took as her own, her father Hugh Thompson.
RIP Thompsons
Please visit my Instagram for any questions or comments on this post!