Carl and Marie Wilcke Teltiz met, married, and started their family in Brandenburg, Germany. They suffered at least one stillbirth in their first years of marriage, but by the time they emigrated to the US, the had one baby daughter, Bertha.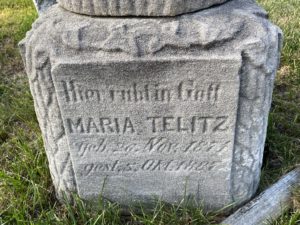 In all, the couple had ten children with only three living to adulthood. Of the lost seven, I infer that only daughter Maria survived past infancy as she is the only one with a marker on the family lot. Her little brother William who was two on the 1880 census (also the only one which lists Maria) did not survive to be listed on the 1900 census and along with the lost census, a lot of documentation seems to be hard to find for that late-century interval. I don't find any records of children either born or passing away in that interval except for Mary. At least one was lost in Germany but what became of the five other lost littles is unknown.
Bertha married, had children, and was widowed, in less than ten years, her husband passing in 1899. The 1900 census lists her and her three children living with her parents, brother John, and sister Emma. All three adult children would marry (or remarry) before 1910. I can't find a 1910 census for widowed mother Marie or Bertha, but I suspect Bertha had her mother living with her family.
Bertha's first husband is buried at Forest Home with his family, but Bertha and her second husband chose to be buried on the north side of the family's double lot, all in a row with her little sister and parents.
Carl's name etched in the heart I think indicates a sweetness to he and Marie's relationship. Little Maria has an inscription is down on the headstone's base and there are spaces for more names on the other three sides, so it's unclear why those weren't used. Perhaps by the time Marie passed away, it was clear, adding the separate headstones made more sense. It's also possible there were inscriptions that wore away over time, though there's no evidence of remaining if that was the case.
RIP Telitzes
Please visit my Instagram for any questions or comments on this post!