27 February 1883 – 24 July 1915
The Eastland, one of five chartered excursion boats meant to ferry employees, their families and friends from Chicago over to the Michigan City shore for the annual Western Electric Company picnic, keeled over into the Chicago River while still at dock, trapping hundreds inside its hull and leading to the deaths of 844 of the 2,500 passengers aboard at the time of the incident which became known as The Eastland Disaster.
---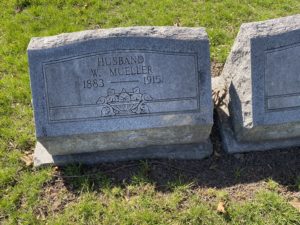 Willy was born in Germany and came to the US when his family immigrated only four years later.
He doesn't turn up in the public records until his marriage to Pauline Pinkall in 1904 even though his death certificate has his parents' names on it. It's possible they settled elsewhere and only William came to Chicago or that the names on the death record transcript were garbled enough to not trigger any correct matches. It's disheartening to not be able to get a glimpse of Willy prior to his working and married life or to even know if he had siblings.
Willy started working for Western Electric in 1904, the same year he and Pauline married. Both were just twenty-one years old. Though they were married for eleven years, they did not have any children.
It is fairly clear from his marriage and probate records that William R. went by Willy in everyday life to the point where it was used on these official documents. At the time of his death, he'd been working for Western Electric (and married to Pauline) for eleven years and was an inspector at the plant. According to his obituary, Pauline was with him on the Eastland and was saved but was seriously injured.
Pauline herself was the only surviving child of two born to her own parents, and she lived with them for their entire lives, first as an only child, then with William, and then with her second and eventual third husbands. The Pinkalls — parents and Pauline — lived at the same address for the entirety of the available public records for them. Though the street name changed from South 42nd Avenue to South Keeler Avenue between the 1910 census and Willy's obituary in 1915, the house number and location stayed the same for every public record attributed to Pauline.
It's unusual for me to find a family so consistently at the same address, and I think that's pretty remarkable. The building appears to still be there, and though it's clear changes have been made to it over the years, its late-19th-century origins are clear in the surviving architecture (it's 2657 if you want to Google Maps it). The 1900 and 1910 census records list Pauline's father's occupation as grocer, and though the first floor is not a store front anymore, the building suggests that it once did house a business on the ground level with living space above it.
There's no additional information on Pauline's Eastland injuries, and the next public record for her is the certificate for her second marriage in 1919 to Herbert Crisman who is listed the following year on the 1920 census living with his wife and in-laws on Keeler Avenue. Tragically, he also died young, passing in 1928 at only 42 years old. Pauline's father passed just a few months later in 1929, leaving both mother and daughter widows living together. Pauline had no children with any of her husbands.
In 1937, after nine years as a widow, Pauline remarried to James Tyk, her last husband. James was also a widower, eight years her junior with one teenaged son. He was Catholic and worked as a taxi-driver.
Pauline's mother died the following year, and the 1940 census shows the little family of Pauline, James, and James's son Leslie living together at the Pinkalls' Keeler Avenue home. Pauline had more time with James than with her first two husbands combined and was able to enjoy being a mother and grandmother, judging by her obituary. In 1963, Pauline passed away and was buried beside her first two husbands and with her parents at Concordia.
James moved away from Keeler Avenue and died eight years later in Lisle. According to his obituary, he's buried with his first wife Ella at St. Adalberts.
Please visit my Instagram for any questions or comments on this post!