21 September 1897 – 24 July 1915
The Eastland, one of five chartered excursion boats meant to ferry employees, their families and friends from Chicago over to the Michigan City shore for the annual Western Electric Company picnic, keeled over into the Chicago River while still at dock, trapping hundreds inside its hull and leading to the deaths of 844 of the 2,500 passengers aboard at the time of the incident which became known as The Eastland Disaster.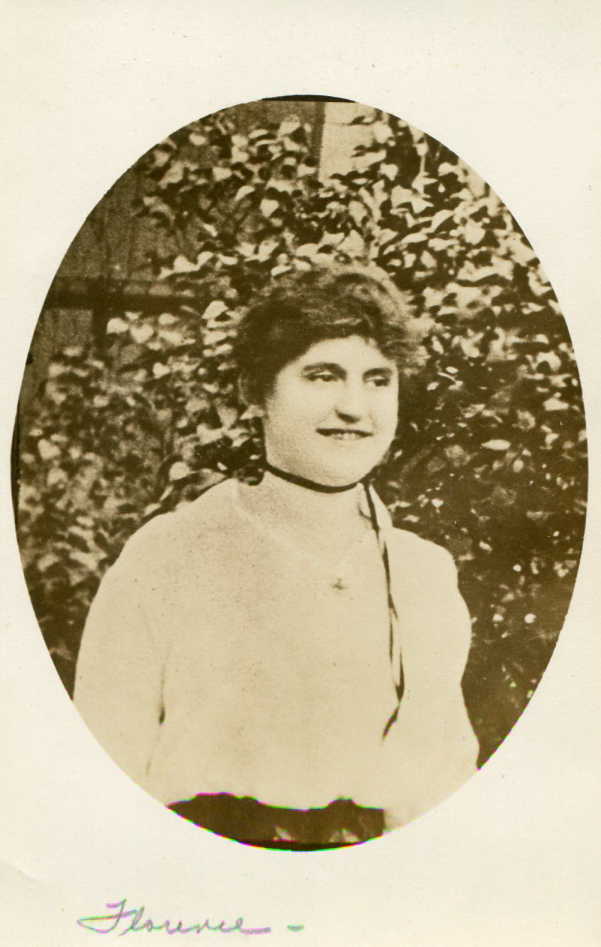 Florence was an inspector at the Western Electric company, and she and her older sister Edna were both on the Eastland that day, but Edna survived. It's unclear if Edna also worked for the company or if she was accompanying her sister as a guest, but as she later married a young man who did work for Western Electric, it seems likely both sisters were employed there.
Florence was the second of four daughters (Emma, Florence, Alice, and Lucile) born to Paul and Emma Sengstock Begitschke, a German immigrant couple. Paul had come to the US as a child with his parents, and Emma came over as a teenager in 1881 along with her family.
The interim years are lost along with the 1890 census, but the couple met somewhere along the way and married in December 1890 when both were twenty-five years old. They did not have children for another five years, and according to Emma's census answers, she was the mother of only four children, all of whom survived childhood.
Father Paul worked was a laborer but must have worked steadily for in 1900, he, Emma, and their two oldest daughters (then 5 and 2) were living in a mortgaged home on W. 21st St. It's unclear but it appears that either Paul's widowed mother (for whom he was her only surviving child) was either living with them or in an adjacent flat (she passed away in 1903). By 1910, the family, now four daughters strong, had moved down the road to another home which Paul had paid off entirely. Also, by 1910, he'd also become a foreman at the harvesting company where he worked.
They were a happy little family by all indications, but tragically, Paul died the next year at only 45 years old. Shortly after that, the older two girls went to work. It's likely Edna went to work almost at once as she'd have been fifteen years old by then, and Florence followed her sister in a year or two. I would guess that by 1912 or 1913, Florence was working, possibly even starting out at Western Electric.
Paul is buried at Concordia beside the family headstone and Florence was buried there as well just over four years after he passed, a space left between for Emma to join them one day.
Edna married in 1919 and left to keep her own home, and in 1920, Emma and the two younger girls had moved once more to West 24th Place, though this new place was also mortgage-free. Edna and her new husband and Emma's family, the Sengstocks, all lived very nearby. It's likely some kind of disaster settlement helped Emma pay the bills, but the two youngest girls were also both working as stenographers, Alice apparently at Western Electric and Lucile for the railroad.
Alice married in 1924, but Emma died the next year in 1925 and did not live to see her youngest daughter's wedding in 1928. She was only 60 years old and was buried between her husband and daughter.
All three surviving daughters had children and at some point — it appears in retirement — they all moved out to Redlands, California. However, Edna passed away suddenly of a heart attack at only 64 while visiting her son in La Grange and is buried at Woodlawn. It is possible there was a family history of heart trouble and that this is what also took Emma's life 34 years earlier or perhaps Paul's in 1911. Alice and Lucile both lived into their 70s and died in California.
RIP Begitschkes
Please visit my Instagram for any questions or comments on this post!