Cecelia Tang
1930 – 2013
Cyril Chung Ying Tang
1930 – 2018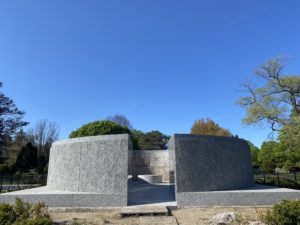 This isn't exactly a mausoleum, but I'm not sure what else you would call it except for incredibly tranquil and beautiful. Mr. Tang died in 2018 and I believe that this must have just been finished as the landscaping isn't completed yet. It felt meditative inside in a way I didn't really expect when I walked in and then when I looked out the west-facing window, there were a couple of swans cuddling together in a box in the pond… It was really something!
Cyril Tang was an entrepreneur and philanthropist originally from China. In 1950, he came to the US and eventually met Cecelia, who was from Chicago, and settled there. I wasn't able to find out much about Cecelia, but they had children and grandchildren and appear to have lived a fairly quiet life in the north suburbs.
The Tangs were generous philanthropists, establishing a series of foundations which continue one after their passing. The foundations focus on education, healthcare, and community development in China and the US, including the Tang Center for Herbal Medicine Research at the University of Chicago and the Cyrus Tang Hall of China at the Field Museum.
RIP Mr and Mrs Tang
Please visit my Instagram for any questions or comments on this post!