This one is a bit of a puzzler. On one side of this family monument, Minnie Krause Jacobi Zink's name and dates are inscribed (7 September 1883 – 20 March 1911)* and on the reverse are her younger siblings Olga (23 October 1888 – 18 April 1910) and Harry (31 October 1886 – 6 October 1925).
Of the three siblings who share this lovely monument, Olga passed away first, at the age of 21. She was living at home and working as a clerk in a bakery. Harry died last but I can't locate a death record for him, and he vanishes from the public records after 1910. I'm not sure why there is so little information available for Harry, but he may have moved out of the area and/or died away from home. Misspellings can make finding the correct records without key pieces of information difficult. No other family seems to be nearby in the cemetery.
Minnie, it turns out, first married in 1902 to Fred H. Jacobi. They had one daughter, Viola, also in 1902, but in 1905, Fred died in Wisconsin. Probate took place in Illinois so it's unclear if Fred and Minnie were living in Wisconsin or if his presence there was work- or family-related, but at the very young age of 22, Minnie was widowed. It seems as if Fred's estate was large enough that it likely left Minnie and Viola comfortable in the short term, but in October of 1907, Minnie remarried to Ignatius Zink with whom she doesn't appear to have had any more children. After Minnie passed away in 1911, Viola went to live with her grandparents. (Ignatius remarried and had one son before he, too, died young in 1917).
The siblings' parents Albert and Albertina Villvock Krause were both born in Germany, married in 1880, and immigrated in 1882. On the 1910 census, which was done a month after Olga's death, Albertina listed three children surviving of seven so it's possible one of the unknown three lost children was born in Germany, but Minnie, the eldest, was born in the US in 1883 and is likely the first child born to them after immigrating (depending on when in 1882 they arrived and if Albertina was pregnant before they left Germany).
Though I can find Albertina's death record (she died in 1943), I can't find Albert Sr.'s death record, but in the 1940 census, both are still alive – Albert 87 and Albertina 82. It's possible he outlived her but, again, no death record so it's a mystery. And no cemetery records!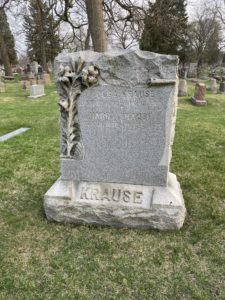 I also can't confirm a death record for Albert Jr. but it appears he never married. In 1917 on his draft card, he lists some missing fingers and himself as sole support for his parents and niece as reasons he shouldn't be drafted. Harry is nowhere to be seen after 1910 though we know he died in 1925? In 1930, Albert Jr. is living as a boarder and working as a coal truck driver. And then we don't find him again, either.
The survivor of the family is Minnie's daughter – who also appears to be the only grandchild – Viola. In 1930, she and her husband, a policeman, are living with Albert and Albertina. By 1940, the households have split but Albert and Albertina are now able to support themselves thanks to the establishment of social security.
Viola and her husband, according to a family ancestry record, had three children, and Viola passed away in 1969.
RIP Krauses
*There are a few records on ancestry.com for Minnie and the Cook Co. death record and her birth record list 1883 as her birth year but the headstone lists 1884 which must've been a miscommunication or an etch-o)
Please visit my Instagram for any questions or comments on this post!