12 September 1899 – 24 July 1915
This is the first in what will be an ongoing series of posts documenting the graves of Eastland Disaster victims in Chicago area cemeteries.
Ella was a fifteen-year-old telephone inspector working for the Western Electric Company when she was killed in the Eastland Disaster. She'd been employed for only five weeks when she died. Her older sister Leona also worked at the company and survived, though it is unclear if she was on the Eastland. It's possible to imagine the sisters may have had separate work-friend groups they wanted to spend time with, and perhaps the older Leona wasn't as excited by the trip as her younger sister and intended to take a later ship.
Ella was born in Hungary (in a part that is now Romania) in 1899, and in 1906, she immigrated to the US with her mother and half-siblings Henry and Susanna Jentzer (from her mother's first marriage which we shall presume ended with Mr. Jentzer's death) and sister Leona. Her and Leona's father Wenzel joined them the following year, and in 1910, all but Susanna (who we presume has married) are living in a rented townhouse on West 21st Place in the Lower West Side neighborhood. Also living with them are Elizabeth's younger brother and sister-in-law and a lodger.
Maritime disaster side note: Ella and her mother and siblings came over on the Carpathia, the same ship that first arrived to aid the Titanic in 1912.
The 1910 census is the only one that lists Ella, who was her mother's youngest child to survive infancy. Ella was listed as Elizabeth on that census, which was likely her birth name. Her sister Leona was listed as Helen so it's unclear if this is Census Taker Carelessness or a change in which preferred names the girls used over time (for instance one ancestry.com record lists Helen as Leona's middle name).
At some point after the 1910 census, Wenzel either died (Elizabeth claims to be a widow on the 1920 and 1940 censuses) or returned to Romania and stayed there (which is the information that is on her naturalization papers filled out in 1927 and her death record lists her marital status as divorced). Due to the nature of the records themselves, and also due to the fact that there is almost no information available about Wenzel such as a death record, I'm fairly confident that Wenzel went back to Romania, and eventually they divorced (I believe after 1927 as she stated he was her husband on the naturalization papers and not her ex). I think Elizabeth fibbed about it out of pride, but in either case, both Ella and Leona went to work at Western Electric to help support their mother after his departure.
After the Eastland Disaster, Leona continued to work for Western Electric, and Elizabeth began to work as midwife. In 1920 the two are listed as living alone together still on West 21st Place but down the same street in a smaller flat. It's unclear when that move took place, and it may have happened after Wenzel's departure, but even so they have not been forced out of their neighborhood, and it seems their financial situation was at least somewhat more secure than in 1910 which is likely due to the financial support dispensed in the wake of the Disaster.
Side note: It not only looks as if both the West 21st Place properties are still there, but they are both in good repair, especially the 1910 one which looks Very Nice Indeed.
Almost immediately after the Disaster, many individuals and organizations pitched in to support both the families of the victims and survivors, and Western Electric in particular comes out looking rather like an ideal employer, acting swiftly to organize and provide support at a level that even today is rare.
In a step familiar to this day following tragedies, an appeal went out to the citizens of Chicago to donate in support of the victims and the $200K goal ($5.2 million today) was surpassed by almost 100% within a few weeks with donations mostly from local citizens and businesses.
Leona married shortly after the 1920 census and by 1923 was living in Berwyn with her husband and two children. Elizabeth stayed on at the West 21st Place flat and continued to work as a midwife at least through 1927 when her citizenship is finalized. At some point after that date and before her death in 1941, Elizabeth moved to the Altenheim in Forest Park (just called the German Old Folks Home at the time) which stands just across the fence from the cemetery where her youngest child is buried.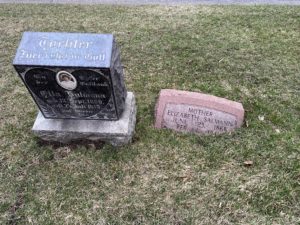 She lived out the remainder of her life at that place, and her funeral was held in the on-site chapel which is still standing but not for much longer (the demolition crews are currently working on asbestos remediation before beginning to clear out the derelict buildings, including the chapel). Many residents of the Altenheim in that era were buried in the private cemetery at the back of the property, but Elizabeth was interred beside Ella in Concordia.
RIP Ella and Elizabeth and family
Please visit my Instagram for any questions or comments on this post!
References
Chicago Stories: The Eastland Disaster (video documentary — WBEZ/PBS)
Ella is mentioned by name with her sister Leona (survived) at about 36:00 though the narrator states that their mother was widowed