June 26, 1874 – September 21, 1890
I've photographed Lillie Diener's monument a few times for obvious reasons (see pictures), but as I started to research the life of this clearly deeply mourned young woman, I discovered a much larger story than I expected.
Lillie's monument turned out to be — on wider inspection following my research — the centerpiece of a massive family plot at the fanciest front-end section of the cemetery. Very recent burials have taken place so I will stick to the turn-of-the-19th-Century history and leave anything beyond that out, though honestly that's where all the drama is anyway.
Lillie's parents were Traugott Charles (T.C.) Diener who came to America with his family from (guuuuessss) Germany when he was twelve years old, and Chicago native Lillie T. Rosenberg (she is listed variously as Amalia and Lottie and a relative appends "Otten" after the T so it is confusing what her correct full name was, but as her own grave marker says only Lillie T. Diener, we will take that as the authority). For clarity, I will refer to Lillie Sr. as such and our heroine as just Lillie.
Lillie was the middle child and oldest daughter of the Diener family. Her oldest brother Charles died in infancy, but William (1872), Rose (1877 — listed as Emma on an early census which makes me wonder if that census-taker was just bad at his job), Walter (1881), and Arthur (1877) all survived to adulthood.
Lillie's father was a stone-cutter and contractor, but whatever that entailed (and perhaps there was family money), they appear to have been very well off. Originally living on Union Street (which I cannot properly locate and appears as if the street may have drastically changed due to the construction of I-90 and of course any neighborhood from that time is long gone), the family lived longest at 1026 S. Ashland which is now part of the UIC Medical Center campus and no trace of their house or any residential neighborhood remains.
If the elaborate family plot wasn't evidence enough, the Chicago Chronicle covered Lillie's younger sister Rose's lavish wedding in its society pages ((August 26, 1896). Not only was the wedding obviously extravagant, but the Diener house was large enough to act as the location for a very large reception following the ceremony. Subsequent census records show that various of Lillie's siblings along with their spouses and children returned home to live with the Diener parents throughout the remainder of their lives so the house must've been good-sized.
Lillie's Uncle Gustav was also a stonecutter and also lived on Union Street, moving later to what was likely a lovely neighborhood but which is now largely abandoned lots and run down buildings. The world of these 19th Century Dieners is long gone.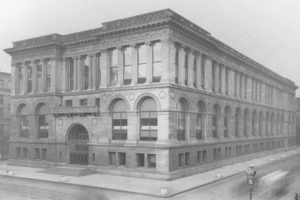 Though this took place after his daughter's death, a sign of Lillie's father's social prestige comes from a story about his downfall from a high place. T.C. Diener had been appointed to the board of the Chicago Public Library by the mayor and during the construction of the old Central Library (which opened in 1897 and has since been replaced by the Harold Washington Library; the old central library building is now the Chicago Cultural Center), Mr. Diener was accused of blackmail, bribery and collusion with one of the bidders for the stone-cutting contract. That bidder not winning the contract, one wonders if they were all in it together and the plan not working out sent Purdy (the bidder) into revenge mode, but checks made out by Purdy to T.C. Diener and endorsed by Diener were produced so it does seem something very shady was going on.
Chicago, baby!
T.C. Diener resigned from the library board, and there were murmurings of legal action, but he later pled his case with the mayor who accepted his resignation and at least pretended to believe his explanation. The library board also heard his defense (described by contemporary reporting as "coldly") and declined to take any further action. As much fondness as I feel for the family, this is Chicago, and T.C. had clearly made pots of money — just in the stone-cutting biz? So… yeah, I think something was definitely going on.
Fear not, though. This scandal took place only a few months before the previously mentioned resplendent and successful wedding, so we can gather that the family was not socially ruined by it.
But what of Lillie, our supposed protagonist?
That was the most surprising turn of the story to me. Seeing so many young people's grave-markers from the time period, you get used to thinking of the time being a more fragile one for young people, what with no child labor laws, not even a shred of a social safety net, the lack of vaccinations, and just general unawareness of the toxic nature of many household items in regular use back then. It's easy to think young people died of things less common today such as consumption or diphtheria, but no.
Lillie died very tragically in a train wreck along with several other young people including two of her own cousins: Anna* Diener (17) and Minnie* Pilgrim (15). The excursion train was coming back from Addison, Illinois, bringing the young people home from what appears to have been a church-related trip.
A short description of the event appended to Lillie's cousin Anna's findagrave.com record explains:
* Very confusingly, Anna is referred to as Margaret in the papers (an incorrect version of her first name Margaretha), and Minnie is referred to as Anna.
** Some clippings seem to indicate that a total of seven young people ultimately died from the crash
***This was the German Evangelical-Lutheran Orphan Home Association of Northern Illinois
Anna was Lillie's paternal Uncle Gustav's oldest child and Minnie was her paternal Aunt Minnie's only daughter. Lillie and Anna died in the initial crash, but Minnie, who suffered truly appalling injuries, died the next day at home.
It must have been absolutely horrific for the family to lose the older girls and then sit helplessly beside the grievously-wounded Minnie's bedside. The wreck was such a disaster, it was written up in papers across the country.
I haven't been able to find the final inquest results but the now-defunct Chicago Inter Ocean's coverage from the September 23, 1890 (the day after the event) seems the least sensational and most fact-based of the clippings I've located (even though it gets the names and ages of several of the victims wrong). Caution before reading the clipping: the descriptions of the injuries are gruesome.
To summarize the story generally, initial reports indicated that the accident was caused by negligence apparently by the crew of the excursion train Lillie was on. The train stood on the main tracks and had either no or too poor of a signal out to warn the oncoming Burlington train it was there, and the Burlington train plowed into the excursion train at full speed, crushing the car Lillie, Minnie, Anna, and the other victims were in. In the confusion after the tragedy, the crews of both trains (engineers, conductor, and brakemen) were arrested pending the full investigation and inquest.
The only indication that perhaps the Burlington train was eventually found at fault is that and a week later, the families of the victims of the crash sued Burlington for $5,000 per victim.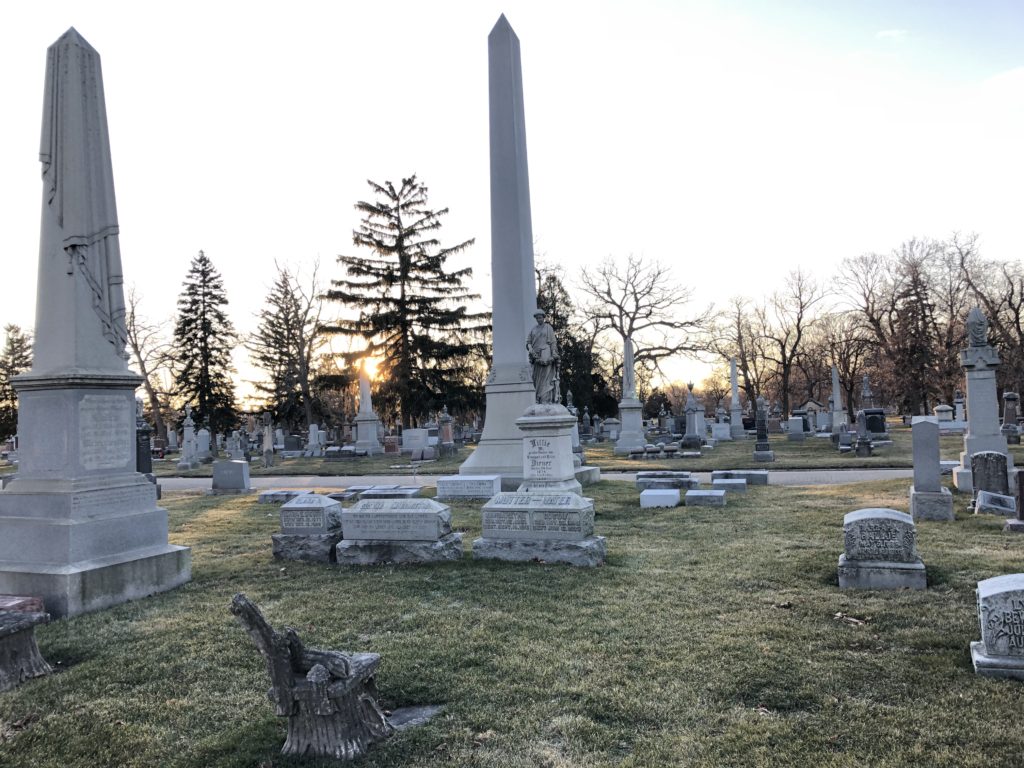 Anna is also interred in Concordia in her father's section of the family plot. Minnie is buried at German Lutheran (now Wunder's) Cemetery with her parents.
It is something to wonder at how much more lavish Lillie's memorial is, however. Anna and Minnie are both well-memorialized but with much less fanfare. It may have been that Lillie's family had more money, or that Lillie was their golden child. I am not judging anyone's grief, but her memorial stands out as one of three grand memorials to the Diener family while her cousins rest more demurely.
In the main image for this article, the obelisk pictured behind Lillie's memorial is her immediate family's central marker (though it is specifically marked with her father's initials, so…) and the obelisk at the right front is her Uncle Gustav's family's. There are many other markers in this section for various relatives and family groupings, but only Lillie's memorial stands out aside from the two pillars.
As I said earlier, the family continues to be buried at Concordia in this section, and it shows signs of great care. Today as I'm writing this, I visited again to get a few more pictures and found a rose on Lillie's marker.
RIP Lillie and all the victims of the train wreck, their families and loved ones.
Please visit my Instagram for any questions or comments on this post!
References