Hedwig "Hattie" Steffen
21 November 1890 – 15 July 1915
The Eastland, one of five chartered excursion boats meant to ferry employees, their families and friends from Chicago over to the Michigan City shore for the annual Western Electric Company picnic, keeled over into the Chicago River while still at dock, trapping hundreds inside its hull and leading to the deaths of 844 of the 2,500 passengers aboard at the time of the incident which became known as The Eastland Disaster.
---
Hattie had only been in the US for eleven years when she died on the Eastland. She had emigrated from Germany with her parents and little brothers Paul and Arthur in May 1903.
Her father, John Steffen, worked at a marble company after they came to the US. Her mother Augusta (nee Breson) had been married before, and Hattie had four surviving half-siblings, at least two of whom also had immigrated to the US. Her half-sister Joanne (Massell) Goerhke was well-settled in Chicago, married, and with children of her own before Hattie's branch of the family arrived. Her brother Herman Massell seems to have immigrated at around the same time as his mother's second family, but as he was not listed on the same manifest, it's unclear if was on the same boat. I could not find her older half-sisters Bertha or Pauline though I suspect they also had come to the US at some point.
Hattie likely went to work as soon as she could after the family arrived in the US, and on the 1910 census, she was working as a tailor in the garment industry. About 16 months later, she started work at Western Electric. She was nearly 25 when she died, but there is no information available as to whether she had as sweetheart. Her parents are all her siblings are listed as her survivors on her obituary.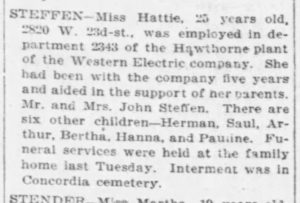 Though her brother Paul (listed erroneously as Saul in her obituary) married later in 1910 and had his own household with his wife and children prior to Hattie's death, the grim job of identifying her remains fell to him.
Western Electric provided for her funeral and gave her parents $25 in relief funds. I couldn't identify if the family received any relief funds from the Red Cross, but it seems the family did not have the money available to purchase a headstone. Just based on the location of her grave and the condition of the surrounding stones, I don't think there ever was a marker.
Sadly, Hattie's father John died just a month less than two years later at only about 55 years old. Her youngest brother Arthur died the following year at just 20 and only a month after he filled out his WWI draft card.
The 1910 census and all three death records indicate the family lived at 2820 West 23rd Street for several years. After her youngest son's death, however, Augusta moved in with her daughter Johanna's family which is where she is listed on the 1920 census.
Augusta had been a few years older than John, so when she died in 1925 at 72 years old, that was quite a good old age for the time. Her son Herman Massell was listed as the informant rather than her son-in-law Gustav Goerhke (who was the informant on John's certificate), so it's possible she had moved from Johanna's home to Herman's in the intervening years as the address is also different from census to death record. In any case we know from this that her relationships with her older children were still intact.
Both of Hattie's parents and her brother Arthur are buried at Concordia, as well as at least one of Paul's children who died at age 3. I couldn't find where Paul was buried and it's unclear when he died, though it was after 1942 when he filled out his WWII draft card and signed his son's.
I also couldn't find any obituaries for any of Hattie's family except Johanna who died in 1941 (her husband Gustav died in 1926), and hers only mentions her children and their families, so it's unclear if any of her Massell siblings were still alive at the time.
Hattie's story is quite sad. Her family came to the US and made a good start here, having a steady address, a community, and for Hattie a good job that enabled her to help her family. The loss of Hattie I think likely lead to the early death of her father and possibly even to that of her little brother, though it is not unlikely that he fell ill with the influenza considering when he died.
RIP to Hattie's family
Please visit my Instagram for any questions or comments on this post!