Lars Schmidt
1886 – 14 September 1890
Eddie Schmidt
28 April 1888 – 28 August 1890
Rudolph Schmidt
19 September 1891 – before 1900
Baby Schmidt
1890s
This little headstone is quite famous, mentioned in guide books and identified on the Forest Home tourist handouts as a destination to visit. The two little brothers, Eddie still in his Victorian-era-standard baby dress, and very proper Lars are immortalized forever side-by-side. According to Graveyards of Chicago, The brothers died of diphtheria two days apart in 1890, but their death records differ, indicating that little brother Eddie died seventeen days before Lars.
Their father was a local undertaker, and he and their mother Friedericka "Frieda" (nee Banks), who both died over forty years after their sons, are buried nearby.
While researching this, I discovered that their father was none other than the Lars Schmidt who was the son of Liesette whose deeply-worn Concordia headstone I sleuthed way back in January so she would have been the boys' grandmother. Seriously, this happens so often, and considering the literal tens of thousands of burials in just these two cemeteries, it's somewhat surprising how often I end up discovering family members of others I've researched.
Eddie's death record lists Concordia as his cemetery, while Lars' specifies Waldheim (now Forest Home), so it's possible Eddie was interred with his paternal grandfather Fritz (who I believe is also buried with Liesette). It does seem odd they'd bury one child in one cemetery and the other in another, so I'm going to have to check with the office and see what their records say. Since the death records are just transcripts and no facsimile record is available on ancestry.com, it's also possible something was mistranslated.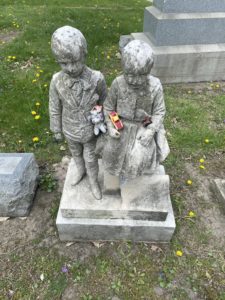 Visitors often leave little toys for the boys, though the ones I have photos of have been there for several months, a small stuffed dog toy and a little matchbox car. Beside their shared monument are two more little graves of young children, their markers worn and unreadable, but sometimes they receive presents as well. I believe these are graves for two less-famous siblings of the boys. One is almost certainly Rudolph who was born in 1891 and died in before 1900, but there was also one other lost-too-soon child who was born after Rudolph (whose birth record states he was the third born to Frieda) and who also died before 1900.
The 1900 census lists only two living daughters for Lars and Frieda and on the 1910 census, she listed three children surviving of seven born, and those three daughters did survive to adulthood and outlived their parents.
My maternal great aunt Ethel (my grandfather and Great Aunt Dottie's oldest sister) died of diphtheria in 1901, and it's likely many of the no-cause-listed young deaths I find in cemeteries and via research are due to this cause. Thank you again vaccines.
RIP little ones
Please visit my Instagram for any questions or comments on this post!