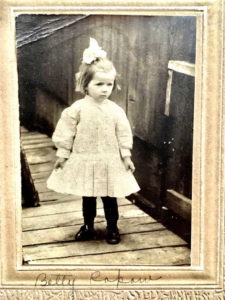 Elizabeth "Betty" Rakow
12 November 1906 – 24 July 1915
Maria Auguste Louise "Augusta" Schwahn Wiese
21 January 1850 – 24 July 1915
The Eastland, one of five chartered excursion boats meant to ferry employees, their families and friends from Chicago over to the Michigan City shore for the annual Western Electric Company picnic, keeled over into the Chicago River while still at dock, trapping hundreds inside its hull and leading to the deaths of 844 of the 2,500 passengers aboard at the time of the incident which became known as The Eastland Disaster.
---
All of the stories of the Eastland are tragic, but this one is a bit extra sad.
According to the Chicago Tribune's obituary, Augusta "went to the outing with some neighbors and was lost, together with her granddaughter…"
Augusta's husband Johann had died two years and one day before the tragedy. Not only was that anniversary fresh for Augusta, but her middle daughter Elizabeth, little Betty's mother, had herself just passed away in March of 1915. Both of these poor souls must have been looking forward to a nice day out to distract from their losses.
I found a snippet of unsourced story appended to Betty's findagrave.com record that had to have haunted Augusta's youngest daughter Minnie for the rest of her life if true: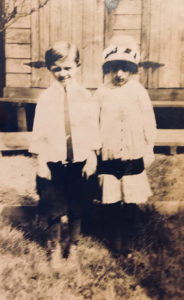 "Elizabeth's Aunt Minnie and Uncle Daniel Quinn and their daughter Lauretta were to have joined them for the picnic as well. But Daniel Quinn and his wife Minnie got into an argument and ended up returning home instead."
It's unclear how Augusta and Betty were related to Western Electric, though it may have simply been the case of an employee inviting several people to attend and providing tickets as it seems employees were encouraged to spread the fun (again, Western Electric seems to have been a pretty great employer and that's yet another layer of tragedy on top of everything).
Betty seems to have been her father Albert and Elizabeth's only child, and it does not appear that Albert remarried. He moved around quite a bit after his family's deaths, working in West Virginia as a plumber just three years later and working as an insurance agent in Iowa in 1930, but by the time of his death, he'd moved back to Chicago.
Betty and her mother are buried with Elizabeth, and I believe her father joined them there as well thirty years later, but his death record doesn't list a cemetery and there is no record for him at Concordia on findagrave.com so that'll take a bit more research to verify.
RIP Betty, Augusta, and your family
Please visit my Instagram for any questions or comments on this post!