30 July 1915 – 25 December 1938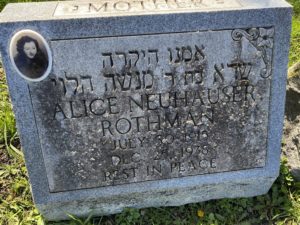 Alice was the second oldest child of Hungarian immigrants Max and Fannie (Altman) Neuhauser. Her siblings were oldest sister Gladys and younger siblings Helen, Henry, and Doris (called Dolly).
Both parents had immigrated with their families in 1906 and married six years later. Max worked as a trimmer in a tailor shop while Alice was growing up, but by 1940, he had his own shop.
Alice married Martin Rothman probably around 1935, though it's unclear exactly when, and together they had one child, Michael David. Michael is mentioned in her obituary but doesn't appear to have lived with his father or with his mother's family after her death. It's unclear if he died perhaps shortly after his mother or if he survived to adulthood due to this absence from his immediate families' lives — at least as far as the census is concerned.
In 1948, Alice's parents moved to Tucson. Youngest Dolly (who never married) and eldest Gladys moved out to Tucson after them (Gladys after 1950), while Henry and Helen stayed in the Midwest raising their families.
According to findagrave.com, Alice is buried with her parents who were brought back to Waldheim after their deaths in Tucson. I didn't get photos of their headstones, but they also have lovely cameos so I may revisit in future. Dolly is also buried with her parents. Henry and his wife are buried elsewhere at Waldheim and Helen is buried in Skokie with her first husband. It's unclear if Gladys was buried in Tuscon where she lived out her life or is also somewhere at Waldheim.
RIP Alice
Please visit my Instagram for any questions or comments on this post!