16 November 1898 – 24 July 1915
The Eastland, one of five chartered excursion boats meant to ferry employees, their families and friends from Chicago over to the Michigan City shore for the annual Western Electric Company picnic, keeled over into the Chicago River while still at dock, trapping hundreds inside its hull and leading to the deaths of 844 of the 2,500 passengers aboard at the time of the incident which became known as The Eastland Disaster.
Edna was the youngest daughter and third-youngest child of eleven (eight surviving childhood) born to German immigrant couple Frederick and Mary Pinnow Will. Her parents had both come to the US with their families as children and had grown up, met, and married in Chicago.
Though only sixteen, Edna had married Edward Fred Pinkall on 8 July 1915 in Lake County, Indiana — only two weeks before the ill-fated company picnic. Edna was not employed by Western Electric, but her new husband was and continued to work for many more years.
Edna's mother passed away in 1919 at the age of 55 and is buried at Concordia. Her father eventually remarried and is buried at Bohemian National Cemetery with his second wife.
Two of Edna's brothers died fairly young, eldest Herman died in 1922 after surviving service in WWI; youngest George died at 22 in 1929 and is buried at Concordia, possibly in this family plot. The other five lived well into old age.
I couldn't find a specific headstone for Edna, but in the specified lot, there is this beautiful, worn headstone for two of her older siblings who died before she was born. There was one other lost babe, according to Mary's census answers in 1900 and 1910, but it's unclear if this third lost child was born before or after oldest-surviving child Herman, born in 1886.
I believe it's possible that not only these two lost ones, but the third are buried here along with Edna, and, in 1919, their mother, too. Section 4 is one of the oldest at Concordia and has a lot of trees which I suspect as the culprits for the disappearance of all but these two rather wobbly remaining markers. You can see that they're clumsily propped up, so some sort of repair has been made in the past.
Though her obituary lists her as Mrs. Edna Pinkall, her husband is not mentioned at all. Instead, the brief entry in the multi-page, alphabetized listing of Eastland obituaries which ran in the Chicago Tribune the Saturday after the disaster only says, "She leaves Mr. and Mrs. Fred W. Will, her parents, five brothers and two sisters."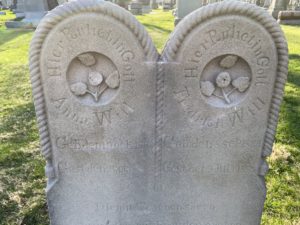 Poor Edward. He remarried two years after the disaster, but he and his second wife had no children and he passed away at only 56.
RIP Edna and all of your family, particularly to Anna and Fredrich Will
Anna Will
19 October 1883 – 29 October 1883
Fredrich Will
8 September 1884 – 9 July 1885
Please visit my Instagram for any questions or comments on this post!