5 April 1881 – 23 April 1962
Fannie was born in Latvia a few years before the "Russification measure" began in 1887. In January of 1905, Russian army troops opened fire on demonstrators in Riga, killing 73 and injuring another 200 people. A revolution also took place in the Baltic region that same year. It's unclear why or exactly when she left her homeland, but unrest and persecution throughout the Russian territories was a very likely factor. In 1906, both she and her soon-to-be husband Morris Lazar Peskind (b 1876) were living in Scotland and preparing to immigrate to the US.
Whether they ultimately meant to marry each other originally is left to our imagination, but it seems they "had to" and took care of it quickly, marrying in Glasgow just two weeks before their arrival in New York (so not sure how long the voyage was but very shortly before they set sail in any case). Five months later, little Harry was born.
By 1910 they owned a mortgaged house (half a two-flat I think) on 13th Street, a location that is now in the middle of Addams/Medill Park in the Near West Side neighborhood. Morris was working as a tinner in a tin shop; baby Harry was three years old; Fannie's younger sister Emona was also living with them, and they also had a boarder.
In September of 1918, Morris's draft card indicates that he was employed by Clybourne & Sherman & Co as a sheetmetal worker, and the little family had moved to 1559 S. Turner Av., a street which was (and remains) incredibly chopped up and the bit that they lived on appears to have been map-tidied out of existence, normalized into a somewhat less broken-up Spaulding Avenue in Lawndale. I believe the location where their house was is now a community garden.
For the 1920 census, they are still living on S. Turner. Oldest Harry is now 12 and they have two more children, Edith (9) and Abraham (almost 2). Morris is still working in the steel industry (most likely for the same employer), but is now doing automobile repair work.
It's fascinating how a young man, who arrived listing plumber as his profession on his immigration paperwork, adjusted his skill set so readily to change with the times. At the time of the 1920 census, Morris is looking to become a citizen and had filed his citizenship papers, though Fannie had not. Both are listed as able to speak English, and the two older children are in school.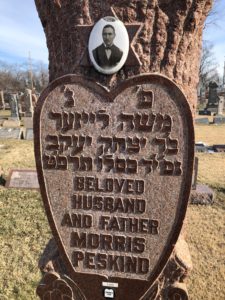 There's no indication as to what happened, but tragically, Morris died late in November of 1928 in Rochester, Minnesota. Relatives on both sides of the family who had immigrated as well all seemed to have settled in and around Chicago, and I didn't find any indication that perhaps Harry had gone there for any reason such as to college. My best theory is that Morris had gone there for some specialized or experimental medical treatment — the Mayo Clinic is based in Rochester — and died there. I suppose he might also have been there for something work-related, but the specific, rather odd location, the lack of any reporting around an accident involving an out-of-town visitor, and the somewhat perfunctory nature of the death record make me fairly confident in my theory. I could also find no obituary which honestly feels the saddest to me about this early death.
Whatever the cause, Fannie was left a widow with two children still at home. In 1930, she, Edith, and Abraham (now going by his middle name Samuel) still lived at the S. Turner Av. home which Fannie owned. Edith worked as a bookkeeper in the auto repair industry. Fannie had yet to apply for citizenship, but in February of 1941, she finally did, following the passage of the Nationality Act of 1940. I also suspect the looming war spurred some immigrants to move to solidify their citizenship status if the option was available to them. By 1942, she has become a US citizen at last.
But going back a bit, in 1937, Fannie remarried to Solomon Kamin, also a widower with three grown children, but sadly, they only had four years together. In late 1941, Solomon passed away at the age of 64. Fannie never remarried.
As we have no census data yet past 1940, I don't know where Fannie went next after losing Solomon. All three children married in the 1930s, and Harry and Edith stayed in the Chicago area. At some point, probably after the war, Samuel and his family moved out to California. All three children lived to good old ages.
Fannie was buried beside Morris in Waldheim. Her picture has a little metal cover over it that I gently opened so I could photograph it, and I was glad I did. She had the sweetest smile, and I felt instantly warmed by it as I expect both her husbands, her children, and her grandchildren were whenever they saw it. Morris was a very handsome, Valentino-looking man — and no wonder Fannie fell for him, the rogue. I have seen a picture of Solomon, and he was also quite handsome (it is not available to share but he and his first wife look extremely posh jazz age in it).
RIP Fannie and family
Please visit my Instagram for any questions or comments on this post!